The issues of privacy, free speech and a feral press divided the panel at the Index on Censorship debate at the London School of Economics on Tuesday evening. Chaired by Index on Censorship editor Jo Glanville (right), the event celebrated the launch of the new issue of Index on Censorship magazine, Privacy is dead! Long live privacy.

Max Mosley, former president of the FIA and successful privacy claimant following revelations in News of the World about his sexual proclivities, re-stated his call for pre-notification ahead of a privacy breach. He lost his bid for a prior notification requirement in May this year, but is currently seeking re-consideration in the Grand Chamber of the European Court of Human Rights.
David Price QC, a renowned defamation and privacy solicitor-advocate, made the case for a freer press at the cost of some individual privacy: "I would rather have a feral press, with a disrespect for authority, than a supine press". If Britain moves to a culture of deference we do so at our peril, he argued.

Meanwhile Hugh Tomlinson QC, a barrister at the forefront of the privacy debate, called for parliamentary attention on privacy law, and a fundamental right that people should be able to choose which of that information they want to make public: "Some people may want to publish a lot about themselves; some people very little about themselves: it's their right to choose, it's not the right of the media. This is a right which needs to be protected against the state."

Mail on Sunday and Guardian columnist Suzanne Moore could see a place for protection of privacy and anonymising injunctions in family law cases, but raised issues around the practicalities of regulating the internet. For Moore, the means of production of celebrity and information are changing and she doesn't think "this is just about press freedom; this is about the whole notion of privacy".
Audience participation was lively too: a hapless student drew unintentional laughs when he prefaced his question with "Max Mosley's activities never hurt anyone…"; and veteran foreign correspondent Dame Ann Leslie was passionate in her defence of a feral press: "I have seen what happens when the press is being controlled, even if it is not controlled by law, because the consequences of offending not just the government, but powerful and rich people, are so appalling".
The panel on …
…Hypocrisy
Hugh Tomlinson:
"Press have been campaigning for a long time so that they have prior notification of injunction applications and they persuaded the Master of the Rolls committee to changes the rules so they would have prior notification, but on the other hand for them to give prior notification before publication … they say this would be contrary to the public interest…"
Suzanne Moore:
"We all know the broadsheets pick up, ironically, two days later, the tabloids' stories."
…Rupert Murdoch
Max Mosley:
News Corp chairman and CEO Rupert Murdoch is "dictating to the government here [in England] and even the police on what they can and cannot do." The only thing "between us and the Murdoch dictatorship" is the judiciary, he said. "I cannot overstate how serious that situation is, when the press are in a position to do whatever they like," he argued.
…Judge-made privacy law
Hugh Tomlinson:
"Parliament should be intervening and bringing in a privacy law," he said. "The press have talked about how it's judge-made law; what they don't mention is that they have been campaigning hard for over 50 years to prevent parliament from bringing in a privacy law because they rather like the idea of getting away with it with a bit more uncertainty …" While new legislation would not necessarily be very different to existing case law, "what would be absolutely crucially important is that it would have a democratic legitimacy; parliamentarians would have considered it; they would have thought it through; they would have voted on it; and these issues would have been argued out."
…The internet
Suzanne Moore:
"People do not respect this [privacy] law. They don't think Ryan Giggs should get away with it," she said. People are willing to pass on information after a couple of seconds, she said: "How are you going to stop that happening? You're not… People who are making the law are living in another world, really."
Max Mosley:
"On the internet you have to look for it to find it … if you buy a newspaper and if it's a big thing it's on the front page … it's fed to you – I think it makes a huge difference." Twitter is gossip, he added: "It doesn't matter, no-one takes it seriously".
David Price:
"The efficacy of the sanction, therefore the efficacy of law, depends on whether you have the power to prevent the information coming out – information is not something that can be locked up and the more the public want to find the information the more it will come out."
…Legal confusion
David Price:
"We have the ridiculous scenario here where my client cannot refer to the person who is suing her, yet in the promotional material for this particular event we have Hugh Tomlinson described as Ryan Giggs' lawyer. We get into all these absurd circumstances" … "Law involves cost and uncertainty – you can't get away from that and privacy law, and privacy as a concept are particularly uncertain."
…Tabloids
David Price:
"The reason tabloids write about [private lives], and the broadsheets follow them up rather sniffily … is because people like to read about them – we're all curious and we're curious about sex."
Hugh Tomlinson:
"The press, particularly in this country, trade in people's private lives; they buy and sell private information about individuals for the purpose of attracting more readers. If there wasn't such a trade, injunctions of this sort wouldn't be necessary."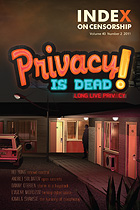 The debate was held to mark the launch of the latest issue of the Index on Censorship magazine "Privacy is dead! Long live privacy", which includes an interview with Sir David Eady, the High Court judge by legal commentator and writer Joshua Rozenberg. The new issue is available now.