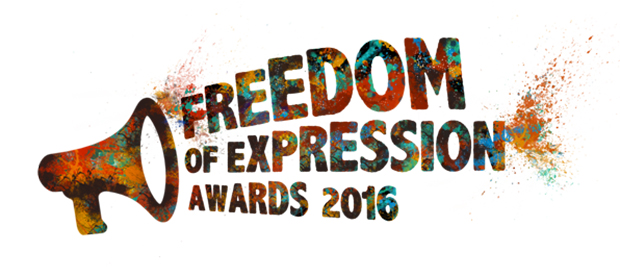 Awards honour journalists, campaigners and artists fighting censorship globally
Judges will include poet and playwright Wole Soyinka, pianist James Rhodes and human rights lawyer Kirsty Brimelow 
Nominate at indexoncensorship.org/nominations
Nominations are open from 15 September to 19 October 2015
Beginning today, nominations for the Index on Censorship Freedom of Expression Awards 2016 are open. Now in their 16th year, the awards have honoured some of the world's most remarkable free expression heroes – from Israeli conductor Daniel Barenboim to Syrian cartoonist Ali Farzat to education activist Malala Yousafzai.
The awards shine a spotlight on individuals fighting to speak out in the most dangerous and difficult of conditions.
Index invites the public, NGOs and media organisations to nominate anyone they believe deserves to be part of this impressive peer group: a hall of fame of some of those at the forefront of tackling censorship worldwide.
There are four categories in Index on Censorship's Freedom of Expression Awards:
• Arts for artists and arts producers whose work challenges repression and injustice and celebrates artistic free expression.
• Campaigning for activists and campaigners who have had a marked impact in fighting censorship and promoting freedom of expression.
• Digital Activism for innovative uses of technology to circumvent censorship and enable free and independent exchange of information.
• Journalism for courageous, high impact and determined journalism that exposes censorship and threats to free expression.
Winners will be flown to London for the gala ceremony, which will take place at The Unicorn Theatre in London on 13 April 2016. In 2015, the ceremony was hosted by comedian Shappi Khorsandi, with awards presented by judges and special guests including Martha Lane Fox, Mariane Pearl, Elif Shafak and Keir Starmer.
Winners also become awards fellows and receive support to amplify their work for free expression. As fellows, winners become part of a world-class network of campaigners, activists and artists sharing best practice on tackling censorship threats internationally.
Jodie Ginsberg, CEO of Index, said: "The Freedom of Expression Awards turn up the volume on the censored and silenced. I encourage everyone, no matter where they are in the world, to nominate a free expression hero so their voices can be heard."
The 2016 awards shortlist will be announced in late January 2016.
Judges in 2016 will include Nobel prize-winning Nigerian poet and playwright Wole Soyinka; Kirsty Brimelow QC, a human rights barrister and chair of The Bar Human Rights Committee of England and Wales; and classical pianist James Rhodes, whose memoir Instrumental was published earlier this year after the UK Supreme Court overturned a publication ban.
Rhodes said: "The Russian poet Yevgeny Yevtushenko once wrote: 'When truth is replaced by silence, the silence is a lie' – and to honour those who fight to speak out and break that silence is a privilege. Having experienced first hand the terrifying impact of censorship, I'm thrilled to be able to play a small part in acknowledging the bravery of those who continue to express themselves in the face of unimaginable oppression."
For more information on the awards, please contact [email protected] or call +44 (0)207 260 2660.