Awards judge Gugulethu Moyo introduces the nominees for the Bindmans Law and Campaigning award
When thinking about freedom of expression, it's easy just to focus on the headlines. But it is often the work behind the scenes that makes the difference, so the law and campaigning award is crucial in recognising the champions of free speech. This year's shortlist demonstrates clearly that tools to silence are used by both dictatorships and democracies – and that those committed to making sure unheard voices are listened to often do so at great personal risk. This year we turn our attention to Pakistan, where those working to change an incredibly hostile climate for free speech have found themselves under fierce attack. In China, those defending campaigners against land redistribution or promoting religious freedom meet with heavy penalties and often risk their lives. And we look at the United States, where the government's preoccupation with national security has overridden one of its citizen's human rights. It's more important than ever to honour those who take on this difficult and complex work – and it's thanks to them that rigorous legal work plays a key role in keeping freedom of expression in a prominent position on the international stage.
David Coombs

David Coombs is the criminal defence lawyer leading the defence of Specialist Bradley Manning, the 23-year-old US army intelligence analyst accused of leaking classified material to WikiLeaks. Manning faces a court martial and up to 52 years in prison.
Despite Coombs's complaints, Manning has been held in solitary confinement in a military brig on a Prevention of Injury (POI) order since July 2010. This order, usually used for short
periods prior to a psychological evaluation, limits his social contact, news consumption, ability to exercise and sleep. Coombs has used his blog to detail Manning's experiences in solitary confinement.
Coombs called an assertion by a Pentagon Press Secretary that Manning is being treated like every other detainee at the Quantico brig "patently false". His work has been pivotal in making Manning's ordeal public.
Gao Zhisheng

Chinese lawyer Gao Zhisheng has been persecuted by the state for speaking out on human rights issues. Gao, a self-taught lawyer, forged a career representing the underdog in cases involving medical malpractice, land redistribution, employment disputes and forced sterilisation.
He has also defended journalists and religious minorities including Christians and members of Falun Gong. In 2005, he resigned from the Communist Party and wrote an open letter to President Hu Jintao and Prime Minister Wen Jiabao, documenting the suffering of Falun Gong practitioners and calling on the leaders to end their "large-scale, organised" abuse.
Security forces took Gao from his home in Shaanxi province on 4 February 2009. Gao claimed the security forces tortured him. The state denied any knowledge of his whereabouts until January 2010, when a foreign ministry official said the lawyer was "where he should be". Gao disappeared again in April 2010, and the Chinese state has refused to register him as a missing person.
Sherry Rehman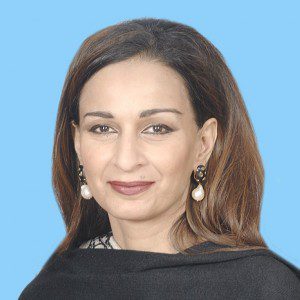 Sherry Rehman is a member of Pakistan's parliament and chair of the Jinnah Institute, a think tank committed to "policies that promote fundamental rights, tolerance and pluralism". For ten years Rehman served as editor-in-chief of the Herald, and from 1988 to 1998 she served as a member of the Council of Pakistan Newspaper Editors.
In November 2010, Rehman submitted a bill proposing amendments to Pakistan's blasphemy law, which is routinely used to silence dissent and as a tool of intimidation against non-Muslims and members of minority Muslim sects.
Rehman and her late PPP colleague Salman Taseer were vocal critics of Pakistan's blasphemy law. They were vociferous in their support of Aasia Bibi, a Christian woman sentenced to death after Muslim neighbours claimed she had blasphemed against Islam following an argument. After the assassination of Taseer by his bodyguard, Rehman was forced to withdraw her bill in February 2011.