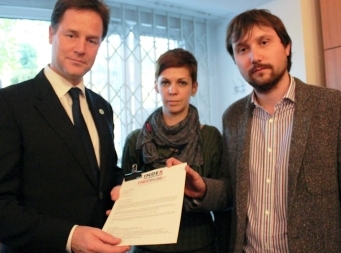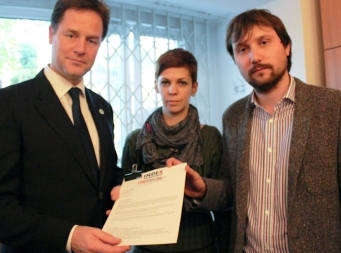 The German chancellor and UK Deputy Prime Minister pledged more action on Belarus's human rights abuses at a Warsaw summit
Germany's Chancellor Angela Merkel expressed concern last night over the Deutsche Bank issue of Belarusian government bonds after the post-election crackdown in which seven of the nine presidential candidates were jailed. At a meeting with representatives of the Belarusian opposition as part of the Eastern Partnership in Warsaw, Merkel heard first hand allegations of torture and kidnap that have been raised since last December's controversial election. She promised to contact the bank directly over the issue.
After the election, 600 opposition activists were jailed. Human rights groups Index on Censorship and Free Belarus Now have condemned the decision by a consortium of majority-state owned Royal Bank of Scotland, BNP Paribas, Deutsche Bank and Sberbank to issue $850 million of Belarusian government bonds in January even after the scale of the human rights violations in the former Soviet became apparent.
In August, RBS issued a statement ruling out any further sale of Belarusian government bonds after a meeting with representatives from Index on Censorship and Free Belarus Now.
Mike Harris, Head of Advocacy at Index on Censorship said:
"This couldn't come at a more crucial time. Ms Merkel's influence could stop European banks issuing Belarusian government bonds. Alongside RBS, Deutsche Bank can send a clear signal not to risk investing in a regime that violates fundamental human rights."
Irina Bogdanova, sister of jailed presidential candidate Andrei Sannikov said:
"I raised DeutscheBank's sale of Belarusian government bonds directly with Angela Merkel. While my brother languishes in jail after a show trial, I'm incredulous that any business in modern Europe could lend any support whatsoever to Lukashenko's vile regime. Angela Merkel was deeply concerned and promised to speak to the bank."
Natalia Koliada of Free Belarus Now said:
"Belarus is Europe's last dictatorship. Lukashenko is torturing political prisoners in jail. Europe is simply not doing enough to uphold basic standards of human rights in its own neighbourhood. It's time to move from words to action."
RBS's decision to rule out any further bond issues due to the "deteriorating political situation" in Belarus has exasperated the authoritarian regime's continuing credit crisis. The Belarusian ruble devalued 36 per cent in May this year alone and the country continues to run a current account deficit of 18 per cent of GDP – almost a $1 billion per month.
The same day, Deputy Prime Minister of the United Kingdom, Nick Clegg received an Index on Censorship / Free Belarus Now petition signed by former Czech president Václav Havel, playwright Sir Tom Stoppard and acclaimed actor Sir Ian McKellen calling upon the government of Belarus to release all of its political prisoners and hold "free and fair" elections.
Clegg commented:
"You cannot rig an election, squash dissent, destroy liberty, run an economy into the ground without, eventually, paying the price."
"I'd like to pay tribute to the efforts of campaigners back in the UK., working with Index on Censorship and Free Belarus Now. One of our major banks has now stopped helping the Belarusian government sell its bonds – a blow to the regime's coffers. It is heartening to see British business and civil society stand together on this. "
For more information please contact Mike Harris, Head of Advocacy at Index on Censorship on +44 7974 838468 or via the London office on +44 207 324 2522; [email protected]