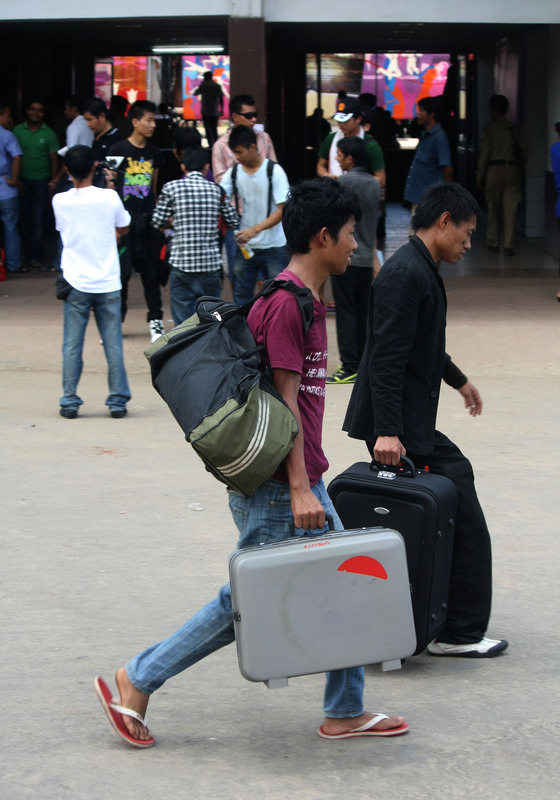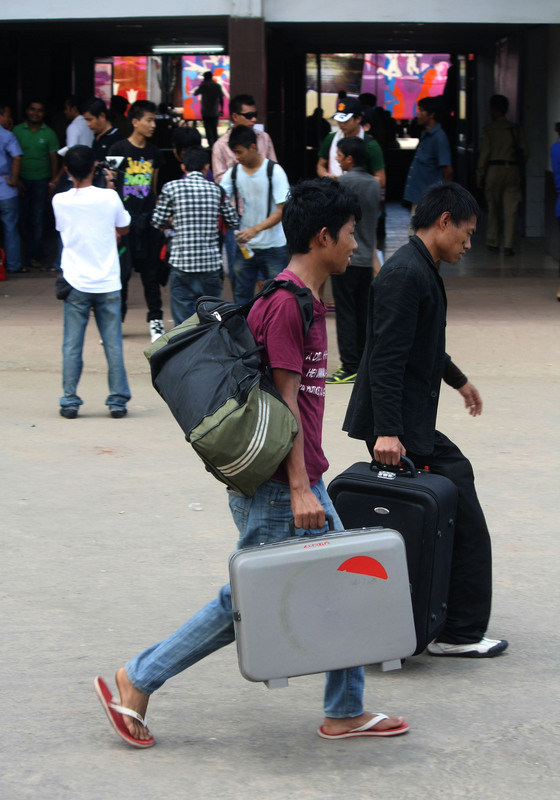 Sukumar Muralidharan says Delhi's censorship may only worsen sectarian violence
On 15 August, as India celebrated the 65th anniversary of its independence, a mass exodus was underway from the southern Indian city of Bangalore, which has in recent years been better known worldwide as a hub of industrial strength, propelling India's aggressive debut on the world stage as a country with economic clout.
The following day, despite anxious efforts by government officials and security agencies to allay fears, a similar mass migration occurred from the cities of Pune, Hyderabad and Chennai.
Those who fled booked themselves for the most part on trains headed to Guwahati, the economic hub of the state of Assam, which is the largest among the eight states collectively known as "north-eastern India". The rush forced the Indian Railways to run a number of special trains from each of these cities, or to increase the passenger capacity of scheduled services.
The mass panic was caused by SMS messages warning people of retaliation for sectarian violence that began in Assam late in July. Four districts of Assam were gutted by mass violence that still continues, between Muslims — deemed to be immigrants — and the Bodo tribal community which claims original ownership of the land. Though under-reported in the mass media, there are worries that the violence in Assam, may have caused India's largest internal displacement in all time.
In response on 17 August, the Indian government banned SMS messages directed to more than five recipients. It also ordered internet service providers (ISPs) to block a number of websites held guilty of hosting highly inflammatory content on the events in Assam.
Just a few days before, on 11 August, Raza Academy, an organisation claiming to be a cultural and educational body organised a protest against the sectarian violence in Assam and reported atrocities inflicted on Rohingya Muslims in Burma.
Following speeches, some of which denounced the mass media for their supposed indifference to the violence, the crowd went on a rampage, attacking journalists covering the event and burning three outdoor-broadcasting vans belonging to well-known news channels.
A study by film maker Yousuf Saeed has suggested that the sense of grievance may have been stoked by manipulated images circulated either in gross ignorance or with deliberate intent to foment violence.
In subsequent remarks to the press, a top official of the Mumbai police said that the violence may have been pre-planned and was possibly linked to one of several underworld factions that operate in the city.
The Mumbai police investigation into the violence has failed to carry much credibility and political parties committed to an anti-immigrant programme have subsequently mobilised to demand accountability at the highest political level of the state administration, for the violence of 11 August.
The SMS ban has been strongly resisted by India's mobile phone service companies, which fear a sharp drop in their revenue for the month.
Little clarity is available on the websites that have been blocked, with the numbers involved estimated to number 250.
The Indian government has also demanded action from Pakistan, which it holds responsible for most of the website content that has inflamed mass sentiments and led to the panic.
Pakistan has responded with a request for concrete evidence before it acts against those alleged to have planted the rumours.
Police in Bangalore meanwhile, announced the arrest of four individuals for spreading the rumours that led to ethnic panic. Though most media have refrained from naming them, some reports have indicated that they belong to the Muslim faith.
Early reports suggested that the arrested individuals may have responded emotionally to disturbing images and stories they received over internet and mobile phone, about the suffering of co-religionists in Assam and Burma. No intent or motive to create ethnic panic was suggested in these early reports.
Soon afterwards, there were media reports which hinted at an organised attempt to stir up ethnic strife. Some outlets have suggested the involvement of right-wing Hindu group  recent events.
On August 18, a mass email from a right-wing organisation, the Vishwa Hindu Parishad, falsely suggested that Muslim youth in the city of Hyderabad in Andhra Pradesh state in southern India had celebrated Pakistan's independence day and had raised the flag of the enemy country in a prominent city square. The pictures circulated were authentic, but were actually taken in Hyderabad in the Sindh province of Pakistan.
With authentic information in short supply, the public is forced to choose between different versions on the basis of prior assumptions and prejudices. The crackdown on means of information transmission in the context, is not seen to serve a useful purpose. Rather, it may only have created even more favourable conditions for rumour and hearsay to flourish.
Sukumar Muralidharan is a journalist working in India, and Programme Manager at the International Federation of Journalists
Latest posts by Sukumar Muralidharan
(see all)