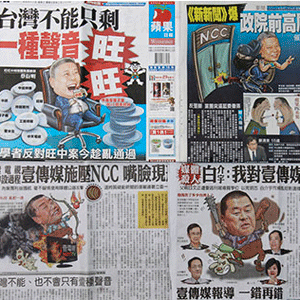 The $600m sale of Next Media, one of Taiwan's most popular media companies, has raised the spectre of a media monopoly that could be disastrous for press freedom on the island. Ching-Yi Liu and Weiping Li report 
2012 has been a very challenging year for press freedom in Taiwan. The challenge comes not from a repressive government — Taiwan is a young democracy in contrast with its mainland brother China on the other side of the Taiwan Strait — but from business tycoons who aim to control the media market.
On 27 November, Hong Kong entrepreneur Jimmy Lai, the owner of Next Media, Taiwan's most popular and independent media group, announced that he would sell his print and television operation to a consortium for 600 million US dollars.
The buyers include William Wang, the chairman of Formosa Plastic Group, a notorious target for Taiwan's environmental activists, and Jeffrey Koo Junior, sentenced to nine years in jail by Taipei District Court for a financial scam in 2010. But the most controversial buyer in this pending deal is Tsai Eng-meng, whose Want Want China Times Group already controls major print media operations, television stations as well as cable systems in Taiwan.
The deal still requires approval from Taiwan's Investment Commission of the Ministry of the Economic Affairs, Fair Trade Commission, National Communications Commission, and Financial Supervisory Commission. If it is approved, the media monopoly resulting from the buyout will be a disaster for the free flow of information and freedom of press in Taiwan.
Even prior to this deal, Tsai — one of Taiwan's richest men, according to Forbes — caused a great wave of opposition when he planned to buy cable television services owned by China Network Systems earlier this year. Tsai's acquisition of China Network Systems triggered fear of a media monopoly, and tens of thousands of students, journalists, academics and social activists took to the Taipai streets last September to protest the approval of the acquisition. If Tsai successfully acquires now a 32 per cent share of the Next Media's daily newspaper and magazine businesses, together with the two newspapers and several magazines he already controls, his media kingdom will expand to dominate almost 50 per cent of Taiwan's print market.
Those who support the deal say that Taiwan's media is a free sector and, even if Want Want China Times Group controls 50 per cent of the market, Taiwanese readers still have other choices of unfiltered information.
However, the media sector is unique. Media, as gatekeepers, have the power to filter or even distort information, and decide what their audiences or readers should know or not. Opinions expressed via media outlets influence people's thinking and judgments, and impact social and political decision-making. Therefore, it is sensible to demand that government regulators take the public interest seriously, and pay particular attention to the potential problem of captive audience in the Next Media merger case.
A big concern is the possibility of self-censorship. All of the buyers in the Next Media deal are pro-China defenders, and they have big investment stakes in the Chinese market.
During a event held for the Formosa Plastic Group's employees, journalists asked William Wang about the takeover. He candidly responded that he believed China's government would appreciate their acquisition of Next Media's Taiwan operations.
When seniors editors at Apple Daily — part of Next Media — asked in a joint conference with the future new owners of the group whether they would censor content in order to avoid irritating China, Koo and Wang said they would respect journalists' professional judgment. But Tsai warned them: "You two shareholders [referring to Koo and Wang] should give it a second thought, because you're going to do business in China. It's hard to say what will happen. If something happens to you, don't blame me for not warning you." [The quote comes a report of the event published by United Daily News, in Chinese].
Tsai is also notorious for denying the Tiananmen massacre in an interview with Washington Post's Andrew Higgins earlier this year.
One of the golden principles of freedom of the press is independence. It is therefore important to protect journalists from any interference. If what journalists deliver to the public is filtered or distorted by personal interest of media owners, the public can never get to know the facts, which is the basis for democratic dialogue and decision-making. Tsai's warning has sent out a clear message that legitimises the worries shared by different sectors of Taiwan society.
Currently the Next Media buyout has met with fierce opposition from people who care about the future of free speech and democracy of Taiwan, including expat Taiwanese all around the world. Students, journalists, academics and social activists have launched a series of protests against the deal and called for Taiwan government agencies that oversee the media industry and market competition to look into the merger carefully. More protests are being planned.
It is still too early to predict whether Taiwan's government will act to protect freedom of speech and the public interest. But it is not too late to demand that regulators listen to the public's appeal and reconsider a decision pivotal to the future of a free press in Taiwan's democracy.
Ching-Yi Liu is a Fellow at the Berkman Center for Internet and Society, Harvard Law School (2012-13 Fulbright Senior Scholar), and Professor of Law at the National Taiwan University. Weiping Li is a contributor at Global Voices Advocacy
Latest posts by Ching-Yi Liu and Weiping Li
(see all)