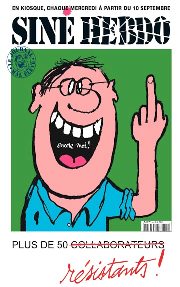 French satirist Maurice Sinet has launched a new magazine he claims will champion free speech. Ruth Michaelson looks back at the very French circumstances surrounding this move

In that special way that's only found in France, the past two-and-a-half months have witnessed the liberal press at war with itself. Accusations have been thrown, many interviews given, and a lot of hot air has been blown on all sides.
The controversy concerns the satirical cartoonist Maurice Sinet, aka Siné, previously a permanent fixture of the publication Charlie Hebdo, historically known for his anarchic style and generally anti-authoritarian attitude. On 2 July of this year, Siné wrote a column depicting an imaginary version of a trial involving Nicolas Sarkozy's son, Jean Sarkozy, and made reference to his coming marriage to Jessica Sebaoun, the Jewish heiress of electrical goods chain Darty. Siné ended the article by saying of Jean Sarkozy, 'Il fera du chemin dans la vie, ce petit', ( roughly translating as 'he will go far in life'), seemingly a backhanded anti-Semitic comment, playing on old notions of Jewishness, power and money.
The mushroom cloud of infighting among the press that was to follow was unsurprising; what there is to be drawn from these events is a far more disturbing precedent about modern media behaviour.
The publication, with its unedited content, was sent to press, printed and distributed with nothing noteworthy being said about it until 8 July, when Claude Askolovitch of the Nouvel Observateur, speaking on RTL radio, labelled Siné's comment as anti-Semitic. Siné has since claimed that in making the comment, he was attacking the opportunism of Jean Sarkozy in choosing such a fortuitous marriage: according to Askolovitch, this still rendered the comment anti-Semitic.
More important are the actions of Phillipe Val, editor of Charlie Hebdo, and no stranger to political controversy after supervising the publications of cartoons depicting the prophet Mohammed. Val somehow inferred from Askolovitch's remark that the magazine would be sued by the Sarkozy family, and that the solution would be to pre-empt this lawsuit by ordering Siné to sign an apology to be published alongside his next column. Siné signed a letter, which the editor then rewrote into something far more servile.
It is not so much the behaviour of the editor that is deplorable, more the environment where the slightest potential for a lawsuit is enough to make an editor (and one who is used to controversy at that) apologise for content previously believed fit for publication. The Sarkozy family did not need to spend money on lawyers in order to get the outcome they desired in this case: the mere idea that they might consider it was enough to turn the situation to their advantage.
The story entangles itself still further. Siné, having discovered the changes to what he had signed, argued with Val, who told him he could either consent to having the revised letter published, or leave. Siné left, and has since set up his own magazine, Siné Hebdo, which launched on 11 September. Following Siné's departure, the Sarkozy family issued a statement saying that since Siné had left Charlie Hebdo, they were not considering any legal action. When asked for his comments on the matter, Val said Siné was not fired, but made his own choice to leave.
Siné has since been sued by LICRA (la Ligue Internationelle Contre le Racism et l'Antisemitism), with his trial being postponed from 9 September until January 2009. He himself has taken out a defamation suit against Askolovitch; the irony of doing so after he defended his own views using the principle of free expression apparently evading him. Siné's tribulations, including death threats against him, have been widely reported in the French press. Once again, it is not so much the fact that the comment was an obvious, overused cliché that smacks of conspiratorial anti-Semitism that makes this tale so depressing. It is the fact that, not only did a magazine exercise a very public and messy self-censorship in response to a threat that failed to materialise, but the media responded with such a torrent of back-biting that this kind of situation is likely to appear again.