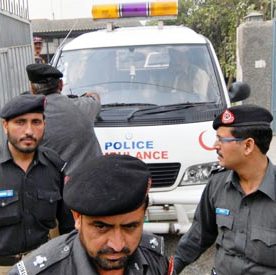 As another person is sentenced to death for defiling Islam's prophet, Khalid Khattak reports on the continuing debate on the much-abused blasphemy law
Another person has been sentenced to death in Pakistan for blasphemy, renewing the debate over the country's laws. Twenty-nine-year old Abdul Sattar was sentenced to death on 21 June.
The blasphemy issue gained international and national media attention last November when Asia Bibi became the first woman in Pakistan sentenced to death for blasphemy.  The verdict attracted condemnation from human rights campaigners and from Pakistan's Christian minority.
Then, earlier this year, Governor of Pakistan's province Punjab Salmaan Taseer and Federal Minister for Minorities Shahbaz Bhatti were assassinated, in separate incidents. They both supported Asia Bibi and made efforts to secure her release.
These are not isolated incidents: over the years, many people have been killed and received threats over charges of blasphemy and for siding with those charged with blasphemy in Pakistan. There is a level of threat attached even when opposing false blasphemy charges.
Blasphemy is a serious crime in Pakistan and the maximum punishment is death or life imprisonment. Section 295 of the Pakistan Penal Code (Act XLV of 1860) is related to blasphemy. However it is sub-section C of Section 295, introduced in 1986, which is one of the hottest points of debate both inside and outside Pakistan — until 1986 maximum punishment for the crime was limited to imprisonment for ten years.
The Section 295-C stipulates: "Whoever by words, either spoken or written, or by visible representation or by any imputation, innuendo, or insinuation, directly or indirectly, defiles the sacred name of the Holy Prophet Muhammad (peace be upon him) shall be punished with death, or imprisonment for life, and shall also be liable to fine."
Not a single person sentenced to death for blasphemy by Pakistani courts has ever been executed, but over the years the number of those killed while on blasphemy charges has risen. Who can forget the killing of two Christian brothers who were accused of committing blasphemy? They were killed outside a Pakistani court in July 2010.
According to one report, 801 of the 1,031 people imprisoned under blasphemy laws in Pakistan are Muslim. The report also claims that a number of blasphemy cases are registered to implicate innocent people "out of personal vendetta."
Human rights groups call for repeal of blasphemy laws and protest against their abuse. But those supporting blasphemy laws ask why human rights campaigners do not raise the misuse of Section 302 of the Pakistan Penal Code under which many innocent people are also implicated — for murder.
Serious efforts have been made to amend blasphemy laws: the PPP's Sherry Rehman, a member of the National Assembly, had submitted a bill in the assembly seeking elimination of death penalty from Section 295-C, for example.
But the parliamentarian has now withdrawn the bill, while Prime Minister Yousaf Raza Gilani has also made it clear that "the government would not support any move to amend the law".
Following the assassination of Salmaan Taseer and Federal Minister for Minorities Shahbaz Bhatti, Pakistani government officials and elected representatives are now very cautious in their statements about blasphemy law, fearing mounting resentment from religious groups.
The recent public demonstrations in support of the country's blasphemy laws expose how strong members of the public, especially of those associated with different religious parties of the country, are in favour of these laws.
While it often feels as if campaign against abuse of blasphemy laws has almost vanished in Pakistan, it has not and a recent report demands authorities bridge legal procedural flaws or repeal the laws.
Khalid Khattak is a journalist from Lahore, PAKISTAN