Index on Censorship launches its UK Free Expression Scorecard warning there is a worrying outlook for free speech in Britain today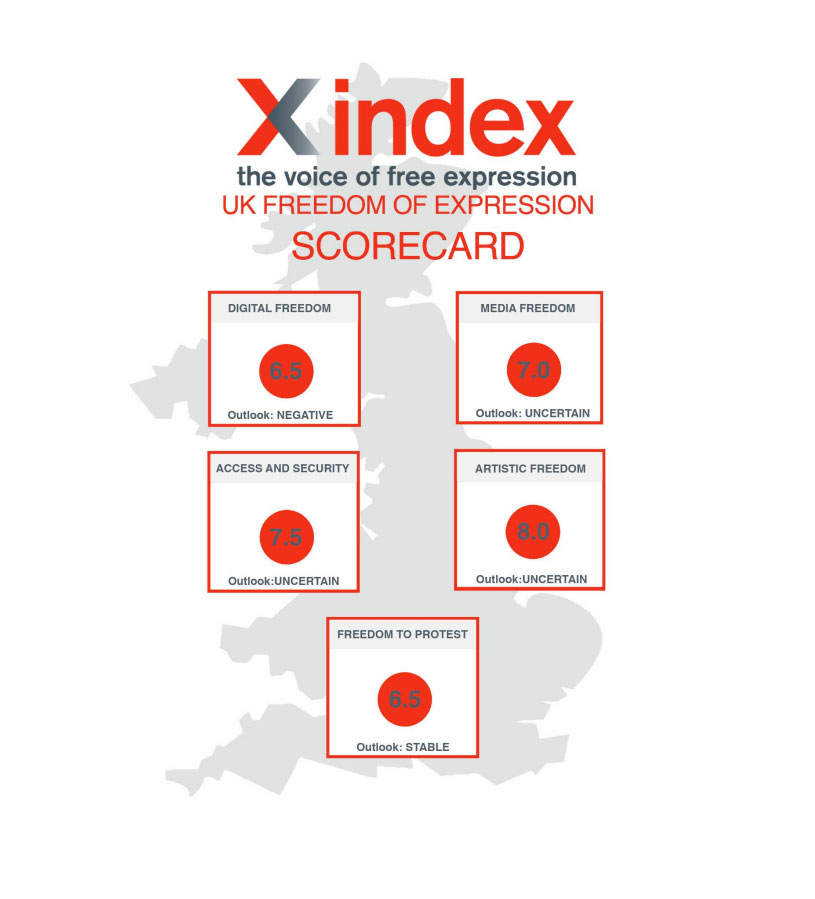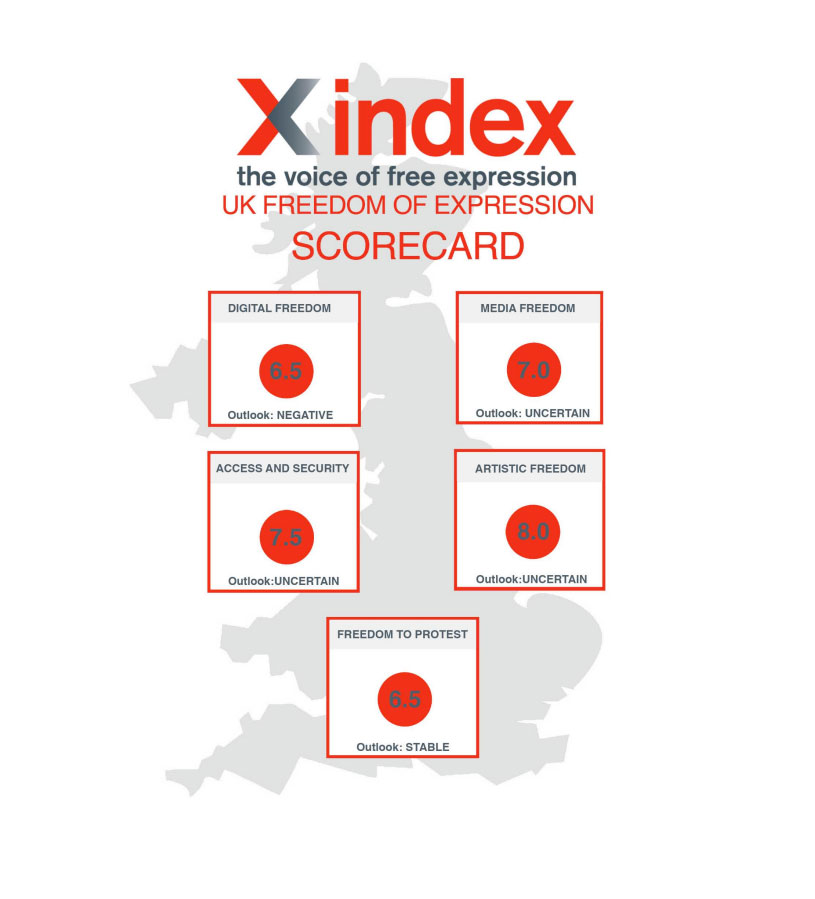 This is a crucial moment for free speech in the United Kingdom. For a country that prides itself on a long tradition of defending a free press and free speech, there are a number of laws and proposed laws that now place security and order above an open society. In the UK Freedom of Expression Scorecard, Index sets out its assessment of the state of free speech and press freedom in the UK — and the current outlook. Overall, it is a worrying and critical moment.
For media freedom we see an uncertain outlook: in the next few weeks, Lord Justice Leveson will announce his proposals for the future of the press in the UK. Many including Index on Censorship are opposed to government interference in the workings of the press. Even 'light' regulation opens up the possibility of the government curtailing the media's ability to stand up to power and hold government and politicians to account – a vital component of our democracy. On a more positive note, the government has brought forward welcome legislation to reform our libel laws. However, uncertainty remains as to whether the Defamation Bill will extend media freedom as it still lacks a crucial public interest defence to protect scientists, medics, whistle-blowers and others.
It isn't just press freedom under threat; we also see an uncertain outlook for digital freedom. A parliamentary committee is looking at proposals in the draft Communications Data Bill (aka "Snoopers' charter") that will bring in the possibility of state surveillance unparalleled in any western country and on a par with Kazakhstan, China and Iran. If our emails are stored by the state, people will self-censor. The possibility the government will significantly curtail freedom of expression with an ill-considered law in the UK is real. The criminalisation of online speech with high-profile cases brought against Facebook and Twitter users is also of growing concern. More positively, the UK actively takes down less content than other countries such as Germany.
Elsewhere, the picture is more mixed. On access and security, the Freedom of Information laws are strong and effective but the proposals in the Justice and Security Bill as drafted means Government wrong-doing is less likely to be exposed. The UK continues to produce challenging art but artistic freedom is worryingly chilled by self-censorship in the face of social pressure, concern over offending religions and the use of public order laws by the police to remove art. While the freedom to protest is well-established, the use of "kettling" to deter protestors is a real concern, and the prosecution of "offensive" protest whether poppy burning or homophobic street preaching shows people are less tolerant towards views they dislike.
The scores are in the manner of a school report — they reflect our evidence-based analysis but in themselves are subjective: a score of 10 would signal a perfect, fully-democratic scenario, 0 would be a totally restrictive scenario with no freedom whatsoever. In this way, we highlight where there are real concerns over free speech and where there is reason to be cheerful. In no category does the UK score highly. The UK is an open society — but challenges to free speech can quickly cause citizens to self-censor and bad laws can lead to state censorship — we must avoid this. The UK comes in with an overall score of 7 when a leading democracy ought to be at 9 or 10.
– Mike Harris and Milana Knezevic