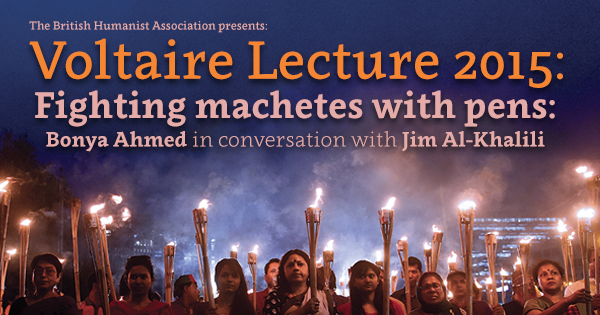 On 26 February this year, Bonya Ahmed and her husband Avijit Roy, both humanist bloggers, were visiting the national book fair of Bangladesh. Just outside Dhaka University, they were attacked with machetes by Islamic fundamentalists. Ahmed was severely wounded and Roy himself was killed.
In the British Humanist Association's 2015 Voltaire Lecture, Ahmed will make her first public appearance since her husband's murder to speak about her life with Roy and their struggle for humanism and secularism in Bangladesh and elsewhere.
Although shaken, Ahmed has sworn to continue the struggle against censorship and violence. She recognises her husband's murder as "a crime not only against a person, but against freedom of speech and humanity", and she is determined that those behind the attack do not succeed.
Hosted by BHA President Jim Al-Khalili.
When: Thursday 2nd July, 7:30pm (doors 7:00pm)
Where: Hilton London Metropole Hotel, W2 1JU (nearest tube Edgware Rd)
Tickets: £9 (Index supporters eligible for BHA member rate). Book here.
Presented by