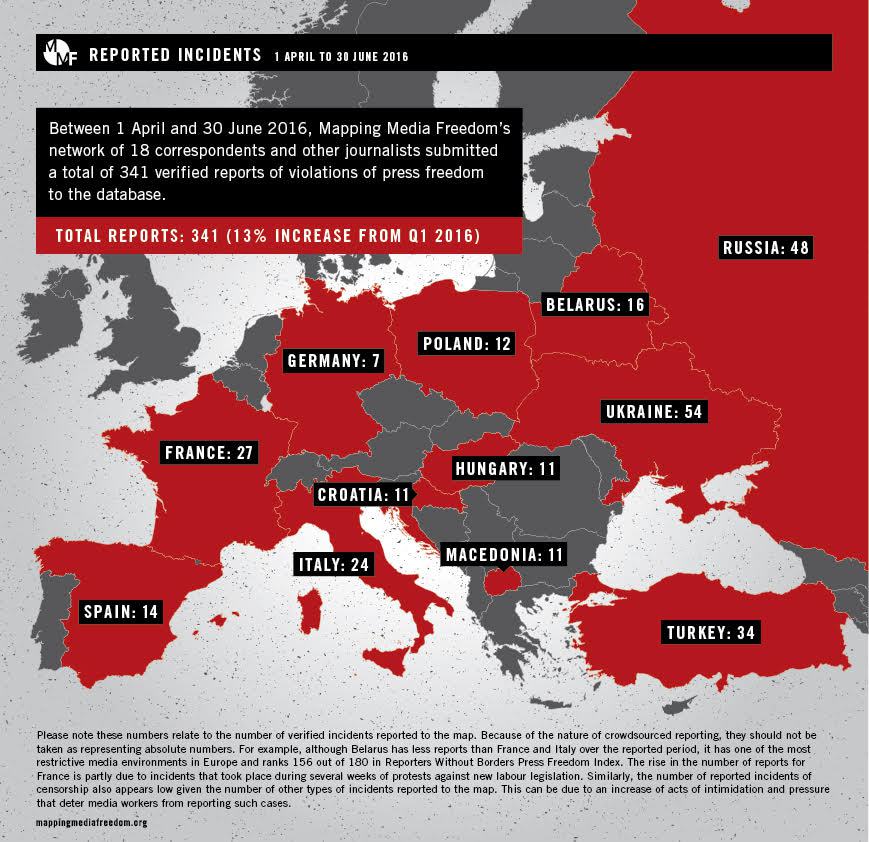 Violence against journalists in Europe increased in the second quarter of 2016, reports submitted to Index on Censorship's Mapping Media Freedom platform show, as a government crackdown in Turkey intensified and protests turned violent in countries from France to Finland.
"Europe is considered one of the safest places for journalists in the world. However, increasing concerns about national security in the region – coupled with creeping authoritarianism – is making it an increasingly difficult place for the media to operate freely and safely," said Hannah Machlin, project officer for Mapping Media Freedom. "And the threats are not just coming from the usual suspects: 12 incidents of injuries to journalists occurred in France and in a number of these cases journalists appear to have been directly targeted by police."
Between 1 April and 30 June 2016, Mapping Media Freedom's network of 18 correspondents and other journalists submitted a total of 341 violations of press freedom to the database, a 13% rise over the first quarter of 2016.
Key findings from the Q2 report
Two journalists were killed. Mohammed Zahir al-Shergat

died

as a result of gunshot wounds in the city of Gaziantep, Turkey; journalist and radio host Luka Popov from northern Serbia was

found dead

in his home in Srpski Krstur

60 incidents of physical assault were confirmed

45 criminal charges and civil lawsuits were filed

Media professionals were detained in 41 incidents

80 verified reports of intimidation, which includes psychological abuse, sexual harassment, trolling/cyberbullying and defamation were recorded

Work was censored or altered 15 times

Media professionals were blocked from covering a story in 73 incidents
"The fight for the abolition of prison sentences for offences committed through the press is unfortunately still relevant in Europe and neighboring countries," Christophe Deloire, Reporters Without Borders secretary general said. "In a climate of growing fear and suspicion, judicial persecution of journalists takes more and more diversified forms. The Turkish authorities continue to invoke the anti-terrorism law, the protection of state secrets or insults to the head of state to prosecute and imprison more journalists."
"Journalists are beaten, intimidated, imprisoned and killed in the pursuit of telling a story, exposing the truth and informing the public. These courageous men and women are the vanguard for free speech, freedom of expression and, ultimately, a free and democratic society. We need to come together and fight for journalists' safety and end impunity for crimes committed against journalists," said Dunja Mijatović, the OSCE Representative on Freedom of the Media.
The report is available now at https://mappingmediafreedom.org/plus/ or as a PDF.
For more information, please contact Hannah Machlin, Mapping Media Freedom project officer at [email protected]
About Mapping Media Freedom
Mapping Media Freedom – a joint undertaking with the European Federation of Journalists and Reporters Without Borders and partially funded by the European Commission – covers 42 countries with a network of correspondents, including all EU member states, plus Albania, Azerbaijan, Belarus, Bosnia, Iceland, Kosovo, Macedonia, Montenegro, Norway, Russia, Serbia, Turkey, Ukraine and Vatican City. In September 2015 the platform expanded to monitor Russia, Ukraine and Belarus and in February 2016 into Azerbaijan. Each report is fact checked with local sources before becoming available on the interactive map. Since launching in May 2014, the map has recorded over 2,000 incidents threatening media freedom.