LETTERS FROM LUKASHENKA'S PRISONERS
Detained since 11 August 2020
"I often think about my past life and question what is happening, but every time I come to the same conclusion – that it is irreversible, necessary, and that change is inevitable."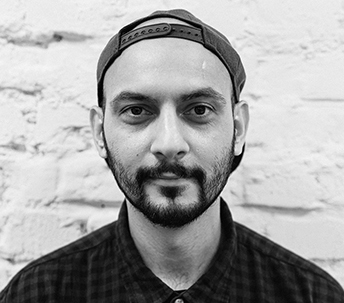 Levon Khalatrian was a bar manager and a volunteer with [opposition politician] Viktar Babaryka's campaign in the lead-up to the presidential election on 9 August 2020. He was detained two days after the election, on 11 August 2020, and was reported to have been badly beaten at the time. He remained in pre-trial detention for 6 months.
In February 2021, the 35-year-old was sentenced to two years of restricted freedom, known as khymiya, for "breaching public order" on election night by shouting slogans, obstructing traffic, and clapping his hands. He was released after the trial to await an appeal hearing. His sentence was confirmed in April and Levon began serving it in June 2021.
Khimiya is a colloquial term for a sentence in an open penal colony. The term, which means chemistry in Russian, originated in the Soviet Union when inmates were sent to work in hazardous industries, including in chemical plants. Nowadays, inmates are required to work in low-skilled jobs and live under surveillance on premises similar to army barracks.
In his letter to his friend Inna, Levon describes how he must engage in forced labour as a cattle farmer. He also refers to khimiya as a "sophisticated pioneer camp" in reference to the children's holiday camps that existed during the Soviet Union.  
In his letter, Levon uses allegory to speak about Belarus' recent history. When he talks about his past life as being like a "childhood", he is referring to Belarus as having been reborn in the lead-up to and immediately after the August 2020 elections. Now Belarus is going through a difficult adolescence, but her "youth" will be "fun", he says. It is not clear what he means when he says that it is a "useful enough institution".
Finally, he describes how he recently went to Kamenets (also Kamyenyets), a town north of the city of Brest, near the border with Poland. He signs off with "Sushki", the name of the place where he is being detained.
Dear Inna, hello! 
We haven't seen each other for over a year, and it's not known when we'll see each other again. I try not to imagine the moment that we will meet or the moment that I will leave this place. It's easier to live in the present. Our encounter / my release will be sweeter that way.
I perceive people visiting me here in roughly the same way. My parents came to visit recently. I was happy to see them, but then I have to get used to the khimiya environment again. I have the persistent feeling that emotionally it is easier to close my eyes, to hold my breath and to dive into shit without surfacing :)
I often think about my past life and question what is happening, but every time I come to the same conclusion – that it is irreversible, necessary, and that change is inevitable. My past life is like a childhood. Bright, carefree. And now adolescence. The youth we will have =) will be fun!
I also think that the people inside the country should decide their future, and others should not interfere. But people can help each other in difficult situations so why can't countries help each other? For example, to get away from an abuser =)
Anyway, enough with the allegories. Let me tell you about how I am. I am working as a cattle farmer on a farm that raises bulls. It's a physically demanding job for me, but I get by. And I'm beginning to get used to it. My fingers just don't want to bend in the morning. I'm a bit worried about my joints, which are the most stressed.
But all in all I like my job, it's an opportunity to understand how people live in the villages. It's also an opportunity to interact with animals. My favourite friend is the horse Gavrusha, I love to cuddle his big head. I try not to get close to the bulls, because they will all go to the meat plant, where their lives are cut short :( 
For me, khimiya is a sophisticated pioneer camp with elements of a prison, the army and of a slave system. Although for those who, for example, refuse to pay alimony or repay their debts, it's a useful enough institution. And with the collapse of the legal system, khimiya becomes absurd and arbitrary.
I went to Kamenets the other day for a medical examination. Well, I mean I was driven by an officer. On the way back we took a regular bus. I sat separately and put my headphones in, and my happiness was boundless. How wonderful it is to just go, to be on the road.
I also want to say thank you so much for everything you do, for your attitude towards me. I really appreciate that we are in touch. And I give you a big hug. Please give my regards to all the guys and to the world, which has already reached the understanding that a human being can only live in a free country. And that anything else is unacceptable!
Peace! Love! Justice!
Your friend, Levon 🤍
д. Sushki