Introduction
When the world first heard of a novel, flu-like virus emerging from the city of Wuhan in China, the team at Index immediately took an interest.
We could not have known how the world would be locked down in an unprecedented effort to control the spread of the virus – few could have predicted that. But what was clear even early on was that the news coming out of Wuhan was not the whole story. Once again, Chinese heavy-handed censorship was visible in underplaying the severity of the outbreak.
By the middle of February, we realised that this was no ordinary health crisis and that dramatic, global efforts would be necessary, including restrictions on individual freedoms – something which we do not accept lightly as an organisation.
"That was a worrying signal," said mapping project leader and Index associate editor Mark Frary. "Index's experience in the nearly 50 years since it was founded is that moments of crisis are often used by governments to roll back on freedom of speech and the freedom of the media to report on what is happening. The public's right to know can be severely reduced with little democratic process."
Index has tracked this history, and has many examples published in our archive which covers the years 1972 to today. Even in February Index was already being alerted to attacks and violations against the media in the current coronavirus related crisis, as well as other alarming news pertaining to privacy and freedoms.
We knew from bitter experience that once these freedoms are eroded, they are hard to get back. We therefore saw raising awareness of any attacks during the Covid-19 pandemic as of paramount importance. We knew it would require a global response.
As a result, we began work on an interactive map to track attacks on media freedoms, the introduction of new legislation or changes to existing laws that threatened to stop journalists from doing their jobs and social media restrictions that threatened the free reporting of information.
Working with our partners at the Justice for Journalists Foundation, we asked our teams, our network of activists and our readers to report from around the world on cases where journalists were being silenced under the cover of Covid-19.
Speaking about the partnership, JFJ director Maria Ordzhonikidze said: "We were grateful to Index of Censorship for including the Justice for Journalists Foundation into the effort to monitor and analyse the global impact of Covid-19 on the freedom of speech. Autocratic regimes around the world used the pandemics as a pretext to further suppress any descent and independent reporting. Many countries swiftly introduced amendments to their criminal codes that enabled to arrest and put journalists behind the bars for alleged spreading of fake news and sowing panic. Silencing investigative reporting to hide the real statistics proved more efficient than fighting against the virus in those countries."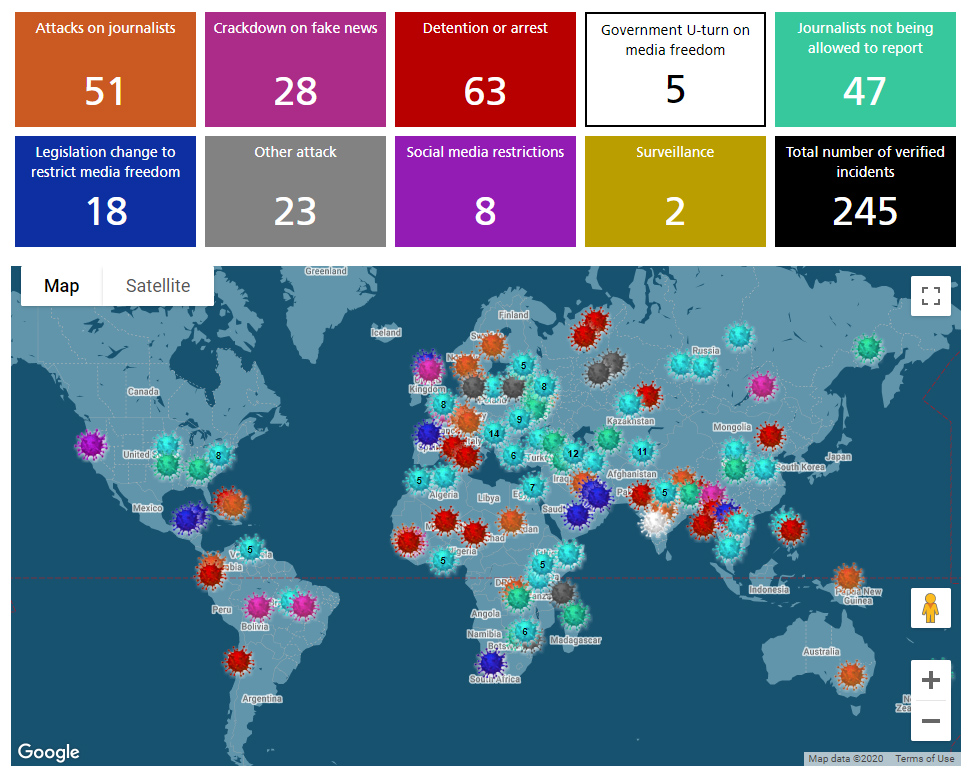 Since then we have investigated hundreds of individual incidents, ranging from efforts by governments to restrict access to only approved journalists to physical attacks on reporters. We have investigated the disappearance of those reporting on social media and cases where journalists have been fined large sums for reporting what their governments have called 'fake news' but is, in reality, no such thing.
This report, eight months on from the launch of the Disease Control project, summarises what we and our partners have found in various regions of the world in the period from February to mid-September. More incidents have come to light since and we will continue to report on these attacks.
The purpose of this is not just to report on those incidents but to make sure that restrictive legislation is rolled back when the pandemic is over and that those who have reported on this crisis are not unfairly targeted or worse.
Map trends