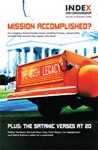 Index on Censorship looks to the future for free expression in the USA after Bush. What will it take to roll back a culture of secrecy and surveillance? With the help of leading activists, writers and journalists, we assess the damage — and the prospects for a new era.
With
Pulitzer Prize winner Eric Lichtblau on exposing the White House's wiretapping programme
Patrick Radden Keefe on the triumph of executive power
(Read free here!)
Jameel Jaffer on the remaining secrets of the Bush administration
(Read free here!)
Steven Aftergood on how secrecy reached new levels
(Read free here!)
Rick Piltz on science under pressure
Geoffrey R Stone on war and speech
Christopher Shinn on the crisis in American theatre
(Read free here!)
Plus Lawrence Krauss and Christopher M Finan
And Zoriah Miller's remarkable portraits from Iraq
Also in this issue, we mark the 20th anniversary of a watershed for free speech — the publication of The Satanic Verses.
Publisher Peter Mayer writes for the first time about the crisis that Penguin Books faced
Nadine Gordimer revisits Salman Rushdie's novels

Bernard-Henri Lévy decries the retreat from tolerance
(Read free here!)
Kenan Malik explains why Rushdie's critics won the war
(Read free here!)
Lisa Appignanesi, Salil Tripathi and Malise Ruthven consider the legacy of Ayatollah Khomeini's fatwa.

For subscription details and stockists click here