[vc_row][vc_column][vc_column_text]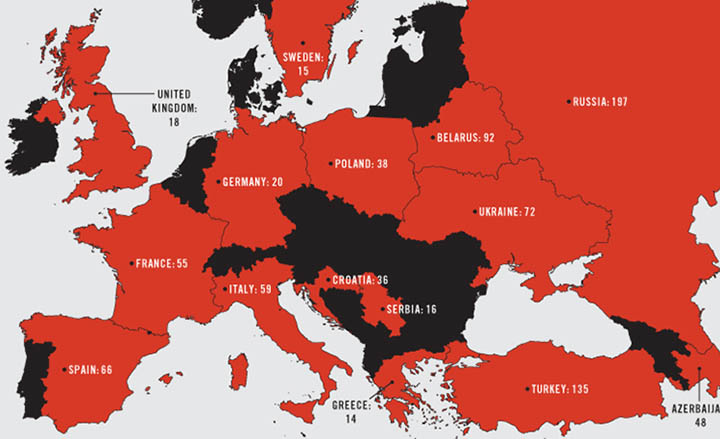 A Scottish politician lodged a motion in the Scottish Parliament on 27 March on media freedom following Index on Censorship's annual Mapping Media Freedom report, crediting its authors for "their continued endeavours to defend media freedom and protect journalists".
Mapping Media Freedom, Index on Censorship's project monitoring threats to media freedom in 42 European and neighbouring countries, recorded 1,089 violations in 2017. As the motion notes, a majority of these threats came from official or governmental bodies.
The motion, put forward by Andy Wightman MSP of the Scottish Greens, "deeply regrets" the loss of life of those journalists murdered throughout Europe in 2017 while conducting their duties: Maltese journalist, Daphne Caruana Galizia; Swedish freelancer, Kim Wall; Syrian investigative mother and daughter team based in Turkey, Orouba and Halla Barakat; and three Russian journalists, Nikolai Andrushchenko, Yevgeny Khamaganov and Dmitri Popkov.
The motion "condemns what it sees as the day-to-day challenges facing journalists who are seeking to hold power to account", notes some of the most worrying trends throughout the year, including the assault of 178 journalists and the 367 instances of psychological abuse of journalists, and criticises the "deliberate silencing of people and organisations by economic, political or criminal interests" through civil litigation and other legal measures.
The motion received cross-party support from Scottish Green MSPs Ross Greer, Patrick Harvie and Mark Ruskell, SNP MSPs Kenneth Gibson and Mairi Gougeon, and Labour MSP Pauline McNeill.
"We are pleased that Mr Wightman has brought the important issue of media freedom to the Scottish Parliament," said Index on Censorship chief executive Jodie Ginsberg. "Index is deeply concerned by the growing trend of threats to the media in the region and it is important politicians do their utmost to protect this fundamental pillar of democracy."
You can read the full report, authored by Index on Censorship's assistant online editor Ryan McChrystal, here.[/vc_column_text][/vc_column][/vc_row][vc_row][vc_column][vc_basic_grid post_type="post" max_items="4″ element_width="6″ grid_id="vc_gid:1522314174440-fa9adb32-fe93-2″ taxonomies="6564″][/vc_column][/vc_row]