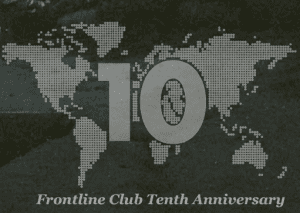 THE FRONTLINE CLUB Awards recognise emerging talents and established names for outstanding work, in print, broadcast and photojournalism.
Featuring Glenn Greenwald from the Guardian and Harold Evans, the former editor of The Sunday Times, alongside the evenings host Jon Snow from Channel 4.
This year we have a special focus on the increasing physical and ethical threat that journalists face and the impunity of those who endanger their work.
What: The Frontline Club Awards 2013
When: 7.00pm, Thursday 24th October 2013
Where: The Frontline Club, London
Tickets: Click here
ELSEWHERE are events hosted and run by organisations other than Index; instances of thinking, speaking or acting freely that we applaud and support.