As we prepare for Index's annual freedom of expression awards, where we celebrate some of the world's most courageous free speech heroes, we are delighted to announce the redesign of Index on Censorship magazine, published by SAGE.  In addition to the in-depth journalism we've always placed at the heart of Index on Censorship, the magazine will feature a wider range of lively opinion snapshots, debates, views from the ground and interviews. A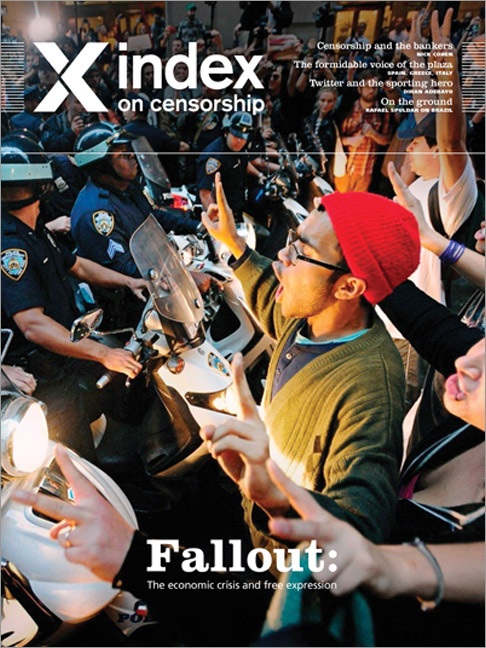 "The magazine's fresh new look reflects Index's increasingly international outlook and role in setting the agenda for freedom of expression," said Index Chief Executive Kirsty Hughes.
The new design was created by Matthew Hasteley, who said:
"Tackling a brief to modernise a magazine of Index's heritage is a task you approach with a great degree of care and respect. The magazine balances the weight of its past accomplishments with its current, ongoing struggle against censorship around the globe, and the design need to reflect that tension — honouring the gravity of its editorial content."
The latest issue, launched today, looks at new threats to free expression posed by the economic crisis, from restrictions on reporting and demonstrations to the rise of extremism. Is a decline in trust and a climate of self-censorship dominating the political, cultural and media landscape?
Christos Syllas looks at the threats to journalists and activists in crisis-stricken Greece and Spanish journalist Juan Luis Sánchez reports on the Spainish government's moves towards criminalising one of the most powerful movements in recent years. The issue also features Natalie Haynes on political comedy and Nick Cohen on the secretive habits of big business and banking.
Our "In Focus" section will explore Index's global themes, from digital censorship, government censorship and surveillance to religious and cultural pressures, restrictive laws and access to information. This issue also features Diran Adebayo on Twitter and the sporting hero and Dominique Lazanski on the future for online freedom.
If you would like an copy for review, please contact Pam Cowburn: [email protected]