Transport For London has reinstated a banned ad campaign for London's Mosaic Rooms gallery featuring an image of former British Prime Minister Tony Blair photographing himself on a mobile phone in front of an explosion.
The photomontage "Photo Op", made in 2005 by kennardphillipps, was promoting a joint show at the gallery for them and Iraqi artist Hanaa' Malallah called "Iraq: How, Where, For Whom?"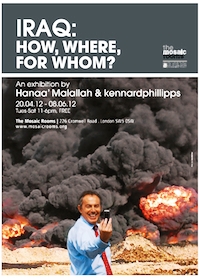 A passenger at Green Park station complained directly to TFL's commissioner and CBS Outdoor — the company in charge of advertising on the London Underground — was instructed to remove all 100 A3 posters just as they were being put up.
CBS Outdoor claimed the image was in breach of bylaws that prohibit imagery that "contain images or messages that relate to matters of public controversy and sensitivity are of a political nature calling for the support of a particular viewpoint, policy or action or attacking a member of policies of any legislative, central or local government authority [advertisements are acceptable which simply announce the time, date and place of social activities or of a meeting with the names of the speakers and the subjects to be discussed]."
This weekend, when asked about the ban, TFL's press office claimed no knowledge of it and subsequently issued the following statement:
"Our advertising contractors, CBS Outdoor, were instructed to remove the posters as they depicted a prominent politician during the pre-election period. Should the organisation concerned wish to display the posters again now the election has been held, we would be happy to do so."
However, nearly two weeks of negotiations between the Mosaic Rooms and CBS Outdoor / TFL had already transpired. This resulted in the creation of an alternate ad campaign design featuring former US President George Bush. When asked if the Mosaic Rooms can now run the entire campaign with the original Blair image, TFL replied "yes."
Artist Peter Kennard, of kennardphillipps, said at the time of the ban "It seems that for TFL, the Iraq War is not for us to think about and [Tony] Blair is not only beyond criticism, but his actions while he was in office cannot even be acknowledged. What affords him such protection when he is now merely another multi-millionaire businessman amongst many?"
As a charity under the Qattan Foundation, the Mosaic Rooms are entitled to a heavily discounted advertising rate in the London Underground. They contended that their posters asked a question and that TFL's actions were a "clear act of censorship which removes a poster on purely political grounds while undermining the principles of free artistic expression."
By saying that the Mosaic Rooms can reinstate the original poster campaign featuring "Photo Op" after banning it on clear political grounds, TFL have shown that they are easily influenced by structures of power. A well-placed passenger with access to the right people in their company can get a campaign taken down — and were the ban not challenged it would have continued. As such, TFL may have set a precedent for other charities and designers seeking to use more political imagery in their work and may think twice before censoring creative expression.
At the time of this writing, CBS Outdoor have still not received instruction from TFL to reinstate the original poster campaign and have proceeded with mounting an alternate image.