The Azerbaijani government must resolve the cases of 89 political prisoners and put an end to politically motivated arrests, the Council of Europe (CoE) said on 26 June. The resolution followed the publication of a report on Azerbaijan by Christoph Strässer, the CoE's Special Rapporteur on political prisoners. The German MP has repeatedly been denied entry to Azerbaijan to report on the situation there. His report states that some individuals had been imprisoned  for such lengthy periods that they should be released "even if the verdicts against them, following controversial trials, were deemed to be justified". Those held on politically motivated charges should either be released or have their cases reassessed in fresh trials.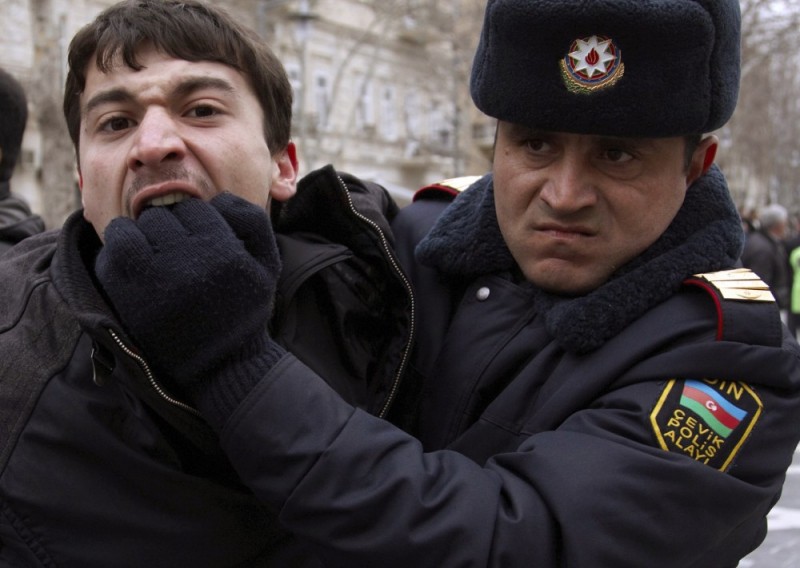 Index on Censorship, ARTICLE 19, Human Rights House, Reporters sans Frontières and other members of the  International Partnership Group for Azerbaijan (IPGA), have called on Council of Europe Committee Members to taker a tougher stand against President Aliyev and his government, which has repeatedly ignored calls for it to honour  its commitments under the European Convention on European Rights. The special rapporteur's report references IPGA findings and conclusions.
Currently, there are seven journalists and civil society activists in Azerbaijani jails being held on politically motivated charges or punished for exercising their right to free expression. They include Anar Bayramli, Zaur Guliyev and Vidadi Iskenderov.
Free expression advocates welcomed yesterday's draft resolution, but also pointed to the continued clampdown against those critical of the government or taking part in protests. Although nine activists were released on 22 June, only the day before, Hilal Mamedov, editor-in-chief of Talysh language newspaper Tolishi Sado was arrested on spurious drugs charges. One activist, youth leader activist Tural Abbasli from from the Musavat Party, has already been issued a summons to begin military service with immediate effect, a move that has been widely regarded as an attempt to limit his political activities.
While the draft resolution had been approved, details of the Azerbaijani authorities' repeated refusals to allow Special Rapporteur Strässer from entering the country were omitted  by committee members prior to its adoption. And the resolution will not come into effect until it secures approval from the Council of Europe's plenary session in October. Azerbaijani authorities have been known to ignore the Council; and it remains to be seen if the resolution will help end the clampdown that started after the Eurovision Song Contest left town.