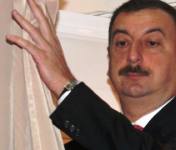 President Aliyev's tight grip on the press has severely damaged his country's democracy, writes
Vugar Gojayev

Freedom of expression in Azerbaijan has been an increasing source of concern during the last four years, with a sharp rise in violent attacks, intimidation and fatalities aimed at silencing the opposition and independent journalists. In a resolution in 2007 the Council of Europe stated that 'vicious physical assaults by unknown assailants against journalists in 2006-2007 remain unpunished, contributing to a climate of impunity.'
The media situation has considerably deteriorated under President Ilham Aliyev, who has succeeded his father, Heidar Aliyev, as president in 2003 in a ballot that was widely deemed as falling short of international standards. He is expected to triumph easily in today's presidential elections, as none of his six rivals has managed to pose a serious challenge and the main opposition parties have chosen to boycott the vote.
Television and radio remain the main sources of information for some 90 per cent of the population; however, all the TV channels are under the full control of the government and owned by allies of the ruling Aliyev family. Newspapers linked to opposition parties have been targeted and face considerable financial pressure. The latest media monitoring results (pdf) by the OSCE/ODIHR Election Observation Mission found that, 'all monitored TV channels devoted a significant part of their political and election news coverage to the incumbent and the authorities, both before and after the start of the official campaign period'.
As the opposition and human rights activists are not represented in the broadcasting media, the Council of Europe urged the Azerbaijani government to launch the public broadcaster 'Public TV', where pluralism and alternative opinions can be heard. Unfortunately, when it was established in 2005 Public TV failed to break the state control, as its board was staffed with pro-governmental officials, who ensured the station fell under the total influence of the ruling regime.
There is a growing environment of state hostility toward independent and opposition media and that raises serious concern about the security of independent journalists in Azerbaijan. In a report in 2007 Freedom House assessed Azerbaijan as on a downward trend, because of a decline in press freedom, including President Aliyev's increasingly tight grip on the media.
Azerbaijan is the only country among the 56 OSCE member countries with a high number of journalists in jail. At least half of the journalists imprisoned in Azerbaijan in the past two years were convicted on charges of criminal libel or defamation. This year, Amnesty International has documented cases of opposition and independent Azerbaijani journalists, who are 'increasingly living under the threat of politically motivated arrests, physical assault and even death'.
One of the most shocking episodes happened on 2 March, 2005, when an unknown attacker gunned down Elmar Husseinov, founder and editor of the prominent and independent weekly magazine Monitor, which regularly published articles critical of the government, including articles exposing corruption among high-level government officials. Though the government swiftly denied involvement, the perpetuators have yet to be apprehended. This contributes to the perception of a climate of impunity for violence against journalists.
Apart from the physical harm, the politically motivated arrests against journalists have also risen dramatically. When satirist and government critic Mirza Sakit of opposition newspaper Azadliq was sentenced to three years in jail for allegedly 'selling and using heroin', many human rights and media activists found the charge 'politically motivated and fabricated'. Journalists and human rights activists argue that the drugs were planted on Sakit during an illegal police search of his person. His brother Ganimat Zahid, the paper's chief-editor, is also in jail for alleged hooliganism.
Eynulla Fatullayev, the founder of daily newspapers Realniy Azerbaijan and Gundelik Azerbaijan, was imprisoned in 2007 April for 'insulting the Azerbaijani people' and 'inciting religious and ethnic hatred and terrorism offences'. In a statement, English PEN stated that, '[Fatullayev] is imprisoned in direct denial of his right to freedom of expression'.
Reporters Without Borders has included the Azerbaijani leader on its list of 'Media Predators'. The Committee to Protect Journalists listed Azerbaijan among the world's top 10 worst countries for press freedom in 2007.
The Azerbaijani authorities continue to use criminal defamation charges as a means to silence critical views. The victims in virtually all cases are closely linked to opposition parties and independent media, clearly suggesting a political context to these cases. In the current climate of the repression of freedom of expression in Azerbaijan, Amnesty International believes that 'criminal defamation laws have been used by the authorities to silence lawful expression of dissent and instill self-censorship among journalists'.
The ruling regime effectively use defamation provisions to obstruct investigative journalism, prevent public debate and stifle open criticism of the government, public officials and other powerful people. Particularly, as the country has a track record in corruption, investigative journalism exposing corruption cases is always hampered by the authorities. Therefore, when the journalists dig deeply into these corruption cases, they face a higher chance of ending up in court for publishing defamatory articles.
International human rights watchdogs have urged Azerbaijani authorities to release all imprisoned journalists and to decriminalise the offence of defamation, or announce a moratorium on further use of it, as it contravenes the right to freedom of the press and freedom of expression guaranteed under the European Convention on Human Rights.
But, the authorities in Azerbaijan are strong enough to pay no heed to international pressure to improve media situation. As Fuad Hasanov of Democracy Monitor, an NGO in Azerbaijan, told Index on Censorship, 'Azerbaijan's emerging role as one of the major oil suppliers has given President Ilham Aliyev and his government the confidence to do as he pleases and to assure themselves that no one outspoken is left in the country.'