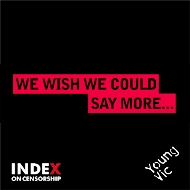 Entire staff of Charter97 held by KGB / Index learns of prison abuse
Update:
• Entire Charter97 staff arrested
• Scores of activists beaten, held by KGB
• Phones of opposition activists out of service
• Four opposition presidential candidates currently held by police
• Criminal charges being drawn up
• Free Theatre's Natalia Koliada released, fined

After last night's protests in Minsk after the questionable "re-election" of Belarus President Lukashenko, there have been mass arrests across Belarus.
Charter97 is one of the few independent media sources in the entire of Belarus. Its entire staff has been arrested by the KGB. Amongst those arrested include Natasha Radzina, editor, and Dimitri Bondarenko. Radzina returned to her flat after police severely beat her at the opposition rally in Independence Square, Minsk. Her flat was stormed in the early hours in this morning and she is now being held by the KGB. No one has been able to make contact with her since. Likewise, Bondarenko was arrested in his flat after the protests and is being held for a minimum of 72 hours for a "criminal investigation", according to sources. The arrests signal an intention by Lukashenko to clampdown on the few remaining opposition websites. The Belarusian Association of Journalists is reporting that Lukashenko has warned journalists and online editors they would be responsible for each word they publish adding:
"We will reform the internet and bring it in compliance with Western standards. We didn't do that before the election."
Prior to the election the regime passed the restrictive Decree 60 to curb internet freedom.
Natalia Koliada from the Belarus Free Theatre was one of an estimated 1000 protesters arrested and held overnight. She is now free but in hiding. She spoke to Index on Censorship this afternoon and spoke of the conditions in the jail. Koliada was held for 14 hours and not allowed water, food or sleep. Guards made vile threats to prisoners: "You are animals. We want to kill you. Our dream is to kill you." Those detained were not held in cells but had to stand in freezing prison corridors. In a worrying development, everyone had biometric photographs taken, were fingerprinted and filmed. The guards also humiliated those held by refusing to allow them to go to the toilet instead forcing them to defecate in front of members of the opposite sex.
Alongside civil society activists and journalists, four presidential candidates are also being held by the KGB: Vladimir Nekleyev, Nikolai Statkevich, Andrei Sannikov, Vitaliy Rimashavskiy. Aliaksandr Atroshchankau, the press secretary of Andrei Sannikov and a close friend of Oleg Bebenin, the activist found dead in suspicious circumstances in September is also being held by the KGB. Tioma Zhaliazniak from the Belarus Free Theatre is also missing. He filmed the protest last night, and also the theatre's event with Index on Censorship at the Young Vic on Sunday 5 December. Last night, Natalia Koliada told the crowd in Minsk of the event in London to huge cheers.
Websites are being blocked and both landline and mobile phones intercepted. Nikolai Khalezin, the co-founder with Koliada of the Belarus Free Theatre had his mobile phone and home phone constantly ring since yesterday evening so no incoming calls can get through.
Index on Censorship will be protesting outside the Belarusian embassy in London Tuesday 21 December. The protest will began at 6pm at the embassy, 6 Kensington Ct, London W8 5DL
For more details call Index on Censorship on 0207 324 2522
email: mike[at]indexoncensorship[dot]org