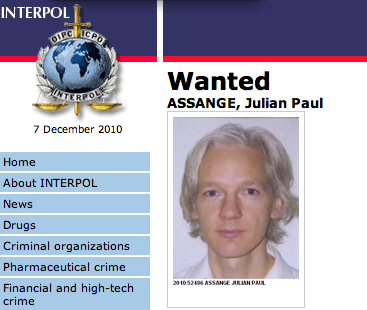 A London court today refused to grant bail to Wikileaks' founder Julian Assange. Assange is facing extradition to Sweden on sexual assault charges including one count of unlawful coercion, two counts of sexual molestation and one count of rape.

In spite of pledges of financial surety from high-profile figures including socialite Jemima Khan, journalist John Pilger and film-maker Ken Loach, District Judge Howard Riddle said he felt there was a substantial risk that Assange would flee the country. Assange will be remanded in custody until 14 December when extradition proceedings continue.
The judge stressed that the case should be judged on its merits and not conflated with Assange's work for Wikileaks. He also noted that while there had not been a large amount of evidence presented to the court concerning the allegations, this was not unusual at this stage in extradition proceedings.
Speaking on the steps of the court, Assange's legal representative Mark Stephens said that a renewed plea for bail would be made. He stressed he believed that Assange could safely have been released into custody, and that he was certain that many more people would offer sureties for Assange.
Earlier, Gemma Lindfield, representing the Swedish Judicial Authority, had said that while Assange had presented himself to police for arrest, the circumstances surrounding Wikileaks "Cablegate" scandal outweighed this fact. She also claimed that if Assange were released on bail, he could be subject to attack by "unstable persons". John Jones, representing Assange, said it was equally likely that Assange would be assaulted while on remand.

Latest posts by Padraig Reidy
(see all)