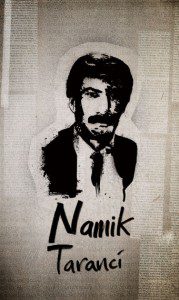 MURDERED 20 NOVEMBER 1992
Namik Taranci Reporter, "Gercek" — Diyarbakir, Turkey
Join us in demanding justice for Namik Taranci, who worked for the leftist weekly "Gercek", was attacked and killed by at least two armed assailants on a Diyarbakir street on 20 November 1992. One attacker grabbed Taranci by the shoulder, shot him three times in the head, and continued firing after the journalist fell to the ground. Before his murder, Taranci reportedly received a death threat by telephone. "Gercek" had reported on the Shi'ite Muslim militant group Hezbollah, which was allegedly collaborating with Turkish security forces in their fight against the Kurdish Workers' Party (PKK).
According to the Committee to Protect Journalists, 20 journalists have been killed in Turkey since 1992.
Take Action: Write a letter demanding justice for Namik Taranci
International Day to End Impunity is on 23 November. Until that date,  we will reveal a story each day of a journalist, writer or free expression advocate who was killed in the line of duty.
Latest posts by Alice Purkiss
(see all)