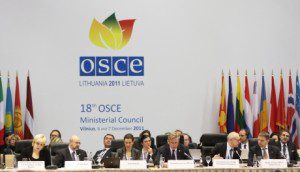 UK's Europe Minister David Liddington visits Human Rights House Viasna alongside Index on Censorship; Irish Foreign Minister Eamon Gilmore emphasizes NGO involvement
Index on Censorship's Mike Harris joined the UK's Europe Minister David Liddington during a visit to the Belarusian Human Rights House in Vilnius, Lithuania this week. At a meeting with opposition political activists including Charter97 editor Natalia Radzina, Liddington emphasised the importance the UK placed on the deteriorating situation in Belarus. This meeting is one of a series of meetings the Minister has held on Belarus since the imprisonment of political prisoners after the presidential election last year. The activists, all of whom are now exiled in Vilnius after fleeing detention by the country's KGB, stressed the precariousness of Belarus's economy and the role that Britain can play as a leading EU member state.
The visit came during the OSCE Council of Ministers at which Belarus featured prominently. US Secretary of State Hilary Clinton called for all political prisoners to be released. Dutch Foreign Minister Uri Rosenthal and Canada's Foreign Minister John Baird, echoed her calls for their unconditional release. Whilst the Foreign Minister of Sweden, Carl Bildt, reemphasised one of themes for Ireland's forthcoming Chairmanship of the OSCE, the importance of online freedom in Belarus.
Irish Foreign Minister reassures Index
Concerns had been raised by NGOs over the failure of the Council of Ministers to debate a strong resolution passed at the OSCE Parallel Conference. At a press conference, Irish Foreign Minister Eamon Gilmore, in response to a question from Index on Censorship, stated that the resolution had been debated and stressed that "NGOs have a very important role to play". He added that at the OSCE "consensus is not always easy to achieve", and on the issue of sanctions against Belarus confirmed that "Ireland has supported sanctions by the EU". In contrast to the view of many NGOs at the parallel conference who called for the suspension of Belarus from the OSCE, Gilmore saw the breadth of OSCE nations as positive saying: "In my capacity as Chair I will work to ensure there is continuing dialogue [with Belarus]… The ability to maintain dialogue is a strength of the OSCE."