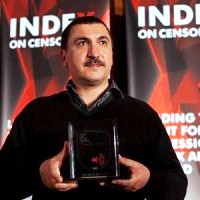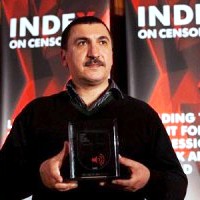 The conviction of Ferhat Tunç signals the marginalisation of dissident Turkish voices, says Kaya Genç
Ferhat Tunç, one of Turkey's most popular and outspoken musicians, last week found himself on the wrong side of the law, when a court in Malatya in the south east of the country sentenced him to two years in prison.
In 2011, Tunç, an Index on Censorship Free Expression prize winner, stood an independent parliamentary candidate for Labour, Democracy and Freedom Bloc. During a speech in Tunceli, where he was standing for election, he referred to three political figures, İbrahim Kaypakkaya, Mahir Çayan and Deniz Gezmiş, whose "revolutionary spirit" he announced to have shared in his own political struggle.
These long-deceased political figures have become symbols for some of Turkey's socialists over the last four decades. Their images often appear on t-shirts, souvenirs and Istanbul's walls in the form of graffiti. All waged an armed war against Turkish state and were captured and executed as a result. But they have little following in society (radical left parties rarely get more than 0.1% of votes) and like Che Guevara, their names often stand for youthful romanticism, rather than hard politics.
But according to the Malatya court, the enunciation of their names is a direct reference to the outlawed Marxist-Leninist Communist Party (MLKP). Tunç has now been convicted of propagandising for the group.
The singer has said he will appeal and his lawyer, Ercan Kanar announced they would bring the case to the European Court of Human Rights.
The verdict pushes a believer in parliamentary politics to the outlawed margins of radicalism. Tunç, after all, had every intention to become an MP in the parliament and accordingly trusted the political system.
While the outlawed MLKP, which was founded in the 1990s, and is in part a continuation of İbrahim Kaypakkaya's TKP/ML party, sees all political process as "bourgeois deception" against which its militants should fight using military means, Tunç believed in the system and wanted to represent the people of Tunceli in the capital Ankara.
"The MLKP has boycotted my constituency during the elections," he said: "had they not done so, I would be in the parliament today. So how can I be accused of propagating for an organisation that effectively prevented my being elected to the parliament?"
The case provides a textbook example of the systematic marginalisation of Turkey's dissident figures, who find themselves behind bars when they seek to take part in political processes.
The prime minister Recep Tayyip Erdoğan himself suffered from Turkey's draconian laws that restrict freedom of expression when he was imprisoned in 1998 for a speech he made a year previously, where he recited a poem of Turkish writer Ziya Gökalp. Erdoğan's case was seen by many as a pseudo-legal attempt by the secular establishment to prevent religious conservatives being represented in parliament.
The sentencing of Tunç, whose campaign to become a parliamentarian seems to have ended, at least for now, with a two-year prison sentence, carries the potential of further alienating sectors of society whom the parliament in Ankara should represent.
Kaya Genc is a novelist and essayist from Istanbul