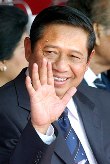 Calls for Indonesian journalists to rein themselves in are a reminder of the bad old days of Suharto, writes David Jardine
President Yudhoyono of Indonesia last week called on the national media to practice more self-censorship. Using an open-air public meeting in the central Java capital Semarang, Yudhoyono called for "more responsible and useful" reporting.
Admitting that the current wider freedoms enjoyed by the press and electronic media were won after many years of struggle under the recently deceased Suharto's authoritarian New Order regime, the president nonetheless espoused the ambivalence felt amongst the political class toward the boisterous Indonesian press.
Bans and closures of papers and magazines, such as the current affairs weekly Tempo, were a frequent feature of the New Order, whose long-serving Information Minister Harmoko was also wont to call in editors for "reminders" over the coverage of certain subjects, particularly the notorious corruption of Suharto, his family and cronies.
This latest statement follows one made in Bali in January by a visiting Malaysian government minister who complained in public that the Indonesian press enjoyed "too much freedom" and was given to reporting irresponsibly on Malaysia itself. He told Indonesian journalists that the Malaysian press, much of which is controlled by the ruling Barisan Nasional coalition, was "more mature". The minister's statememt prompted a vigorous response from Tempo and others.
Meanwhile, Tempo and the daily Koran Tempo face yet another court action, this time for alleged blasphemy in publishing a front cover featuring Suharto and his children as figures in a version of Da Vinci's painting The Last Supper. Despite the fact that the magazine withdrew the cover and did not use it on their English-language edition, a Catholic youth organisation is going ahead with what might be a long drawn-out case.
In 2005 Tempo fought several cases in the courts brought by Tommy Winata, a powerful Chinese-Indonesian businessmen with connections to then president Megawati's husband, over allegations linking him to a fire that gutted the huge Tanah Abang garment market in Jakarta. Winata deployed goons to the magazine's office, where the chief editor and a senior journalist were assaulted.
Were any of the senior figures at Tempo to be convicted and jailed for blasphemy this would mark a return to New Order days. In the early 1990s a current affairs weekly's editor was sent to prison for publishing the results of a popularity poll which was deemed to have blasphemed the prophet Mohammed by ranking him lower than several then living figures.