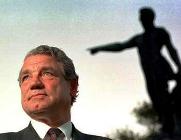 The arrest of Frederick Toben could have implications for freedom of expression in the UK, says Padraig Reidy

On Wednesday, Frederick Toben, a convicted Holocaust denier, was taken off a plane at Heathrow airport by Metropolitan Police officers. He had been on his way to Dubai. The Met officers were carrying out a European Arrest Warrant put out by German authorities, charging Toben with disseminating materials of an 'anti-Semitic and, or, revisionist nature' that 'play down above all the mass murder of the Jews, planned and implemented, by the national socialist rulers'.
This was in compliance with Section 130 of the German criminal code, which covers crimes that do not yet exist in the United Kingdom. While, in 2007, the EU adopted a directive making 'publicly condoning, denying or grossly trivialising crimes of genocide' punishable by law, the UK (along with Ireland and Sweden) has chosen, as is its right, not to create statute reflecting this.
So why, if Holocaust denial, or 'trivialisation' is not a crime in the UK, was Toben arrested by UK police?
Anti-EU campaigners claimed, when European Arrest Warrants were introduced, that they would destroy the notion of dual criminality, whereby a person could only be extradited if they were charged with an offence that is a crime in both countries. Were they right?
The framework decision on European Arrest Warrants recognises 32 offences for which dual criminality does not have to apply — these include racism and xenophobia. As yet it is not clear whether the German authorities intend to charge Toben for broad racial incitement (which is a crime in the UK), or specifically Holocaust denial (which is not).
In 2003, the Daily Telegraph reported Home Office Minister Lord Filkin as saying 'If someone went to Germany and stood up in Cologne market place and shouted the odds, denying the Holocaust, and then came back [to Britain], they would be subject to extradition under the European arrest warrant.'
This, it would seem, has come to pass.
If Toben is extradited after his hearing on Friday at City of Westminster Magistrates' Court, it may put us in the peculiar position where Holocaust denial is acknowledged as a crime by the UK courts, without actually being a crime under UK law. Index on Censorship will be following the story.