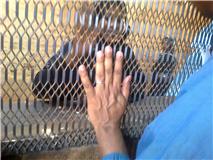 As journalists are jailed and fined for reporting on the rape of a human rights campaigner, Abdelgadir Mohammed Abdelgadir reports on press freedom in Sudan
Sudanese journalist, Fatmah Ghazali, has been sentenced to a month in jail after she refused to pay a fine for her reports on the alleged rape of female opposition activist, Safia Ishag. The Sudanese Authorities have now moved Ghazali to Omdurman women's prison.
Saad el-Din Ibrahim, editor at the Sudanese daily Al Jarida, has also been charged and will face the same decision between a 5, 000 Sudanese or a month in prison. Last month nine other journalists, from a variety of newspapers, were also charged with defamation and "publishing fake news". Their reports all dealt with the alleged rape of Ishag by three members of the National Intelligences and Security Services (NISS).
In a number of reports, journalists had called for the authorities to begin an investigation into the rape case and bring those accountable to justice. All of  the journalists essentially published their own opinions, but have been now been charged with "publishing fake news".
By 26 June the independent newspaper Ajrass Al-hurriya had been barred from circulation five times in that month and nine times since the beginning of the year.
On 3 July Abuzer Ali Al-Amin, deputy editor of Sudanese opposition daily Rai Al-Shaab, was moved from Kober Central Prison into the custody of the State Security Prosecution after spending 18 months in jail. He faces fresh charges of "publishing fake news", "attacking the state" and injuring a NISS agent. These charges could carry a possible life sentence or the death penalty.
This attack on free media and journalists seems to be part of a new phase of the media crackdown in north Sudan, and comes before south Sudan's separation.
After the south gains independence, the situation in the North is likely to become even more difficult. The government insists that they will cancel the interim constitution of 2005 and return to Shari'a law and the United Nations Mission In Sudan (UNMIS) has been directed to leave the north after 9 July, the date when south Sudan will become the newest country in Africa.
Abdelgadir Mohamed Abdelgadir is a freelance journalist and  human rights defender.