Two men  jailed for four years over Facebook messages inciting disorder — their cases spark criticism of  "disproportionate" sentences. Sara Yasin reports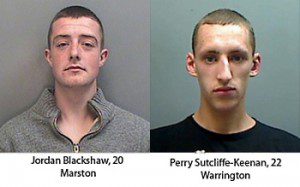 Two young men were sentenced to four years in prison for instigating rioting through Facebook yesterday.
Jordan Blackshaw, 20, and Perry Sutcliffe-Keenan, 22, pled guilty  to using the social networking site "to intentionally encourag[e] another to assist the commission of an indictable offence under sections 44 and 46 of the Serious Crime Act 2007″.
Judge Elgan Edwards, QC, the Recorder of Chester, said that he hoped the sentences would deter any other potential looters. He said that their behaviour was "evil", especially "at a time when collective insanity gripped the nation". Blackshaw and Sutcliffe-Keenan were caught after their events were reported by concerned users of the site.
Emily Butselaar, Online editor of Index on Censorship said: "These sentences and the government's rhetoric on banning social media during unrest are undermining our international reputation as a bastion of free expression and justice. The fact the Chinese state media have praised the UK government for suggesting such a ban should be acutely embarrassing for No. 10.
"In adopting a one-size-fits-all approach to sentencing, the courts have failed to recognise that these are very different cases. Sutcliffe-Keenan claimed he created the Facebook event as a drunken joke. His post was only up for a matter of hours before he took it down and apologised online, whereas Blackshaw was arrested by police at the meeting place he'd designated.
"The sentences were imposed with the aim of deterrence but Index is concerned that the courts are in danger of undermining the UK's reputation for both justice and freedom of speech. Even though these cases did not lead to violence, these "speech crimes" have led to some of the harshest sentences seen following the riots in the UK last week."
The men did not know each other. Blackshaw, who will serve his sentence at a young offenders' institution, called upon his virtual friends to meet for a "lootin'". He created a Facebook page entitled "Smash Dwn in Northwich Town". Only nine of his 147 friends responded to the event and Blackshaw arrived alone at the designated meeting place.  He was met by police officers rather than fellow looters and was immediately arrested.
On 9 August, Sutcliffe-Keenan created a page called "Let's Have a Riot in Latchford". A few hours later, he took down the post. According to his lawyer, Rebecca Tanner, Sutcliffe-Keenan was drunk while posting the messages and quickly removed the event after "a phone call from a friend prompted him to remember his action". Once he "realised the gravity" of his actions, Sutcliffe-Keenan removed the page and made a public apology. No one turned up for the event, but 47 individuals confirmed their attendance on the page. According to prosecutors, the Facebook post still caused panic in the town.
Tess Munt, MP for Wells, described the sentence as "bonkers", and Andrew Neilson, director of campaigns for the Howard League for Penal Reform, claims that a sentence of four years would "normally be associated with serious and violent offences", rather than an offence involving Facebook.
Sara Yasin is an Editorial Assistant at Index on Censorship.