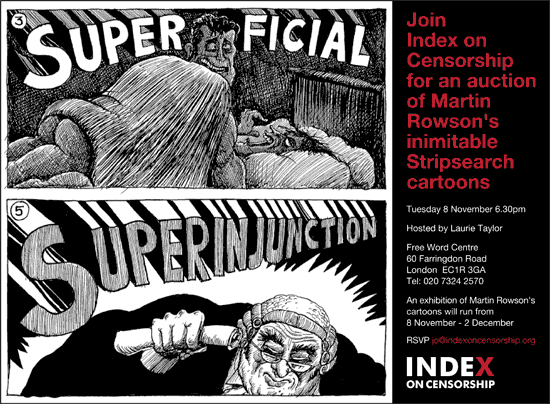 Date: Tuesday 8 Nov
Time: 6.30pm
Venue: Free Word Centre, 60 Farringdon Road EC1R 3GA
To attend please RSVP to jo[at]indexoncensorship.org
The UK's greatest political cartoonist, Martin Rowson has been lampooning the good, the great and the downright scurrilous in the pages of award-winning Index on Censorship magazine since 2001, and is a regular contributor to the Guardian and the Independent On Sunday. From Tony Blair and obscenity to Twitter and super-injunctions, Rowson's satirical series is an unparalleled commentary on the highs and lows for freedom of expression over the past ten years.
This is a rare opportunity to buy an original Rowson cartoon and support the work of Index on Censorship in the fight for freedom of expression.
The auction will be hosted by Radio 4's Laurie Taylor. There will be a drinks reception for guests.
View the catalogue for the auction here:
Latest posts by Eve Jackson
(see all)