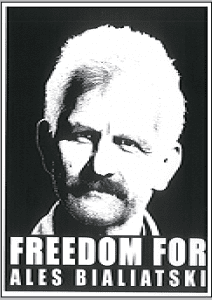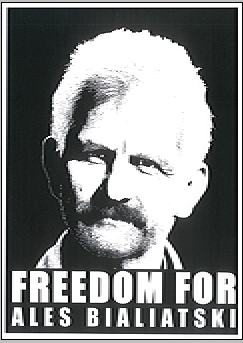 The founder of one of Belarus' leading human rights organisations has been sentenced to four and a half years in prison for alleged tax evasion. 
Index calls on the UK Foreign Office to press for Ales Bialiatski's freedom

Ales Bialiatski, founder of Viasna, one of Belarus' leading human rights organisations, has been sentenced to four and a half years in prison and confiscation of property for alleged tax evasion.
Bialiatski is a high profile victim of a deliberate strategy to force human rights activists to hold campaign funds abroad, then twist tax laws to target, jail and silence them.
The government of Lithuania handed over the private details of Viasna's bank account in Vilnius to the Belarusian authorities, all the regime needed to put the trumped up charge together.
Lithuania has apologised for the act, but must lead demands for Bialitiski's release when it hosts the annual summit of foreign ministers from the pan-European security body, the OSCE, in December.
Index on Censorship is calling on the UK Foreign Office today to press for Bialitiski's freedom, to urge Lithuania to make amends by using its time as president of the OSCE to lead a pan-European challenge to the sentence. The UK must also use its own time as president of the Council of Europe to maintain the pressure on Belarus, often decribed as "Europe's last dictatorship".
Viasna is Belarus' main human rights organisation, providing legal and practical support to victims of the regime's abuses and acting as a key source of information about rights violations. Viasna has been denied legal registration in Belarus, forcing them to work underground or abroad.
The European Union has long condemned what EU High Representative Cathy Ashton calls "repeated acts of intimidation and harassment of peaceful human rights defenders in Belarus, and at the continued refusal to grant legal status to independent human rights groups".
The OSCE Chairperson-in-Office and Lithuanian Foreign Minister Audronius Ažubalis expressed his dismay over the conviction. Ažubalis said:
"This case must be seen as part of a broader pattern of harassment and intimidation of human rights defenders in Belarus."
Ažubalis added: "The actions for which Ales Bialiatski was found guilty are a direct result of undue restrictions on freedom of association in the country and his activities as a human rights defender, and it appears that the court failed to adequately consider Mr. Bialiatski's motives."
The minister also repeated his call for the immediate and unconditional release of Bialiatski and other political prisoners and civil society activists: "I urge the Belarusian authorities to ensure the full implementation, both in law and in practice, of OSCE commitments on freedom of association and the protection of human rights defenders."
Ales is the "jewel in Belarusian human rights work," and no one can "quite fill his role," said Berit Lindeman of the Norwegian Helsinki Committee.
"We know that Viasna's employees will continue the work, and we stand together with them in demanding the release of Ales and other political prisoners in Belarus."
The list of political prisoners includes former presidential candidate Andrei Sannikov, jailed for nearly a year under torture-like conditions.
UPDATE
UK Minister for Europe David Lidington has condemned the sentencing as "yet another case of the Belarusian judicial system being used to punish those in Belarus who seek to exercise and defend basic human rights."
He warned:
"Belarus's misuse of legal agreements with neighbouring states illegally to obtain information which formed the basis of the case mounted against Bialiatski is a salutary reminder of the dangers of cooperation with an increasingly lawless administration."
Lidington called on Belarus to ensure the rights and freedoms of the country's human rights defenders in line with its international treaty commitments.
Latest posts by Alice Purkiss
(see all)