As over 40 people, many of them journalists, are detained on terrorism charges across Turkey, Kaya Genç examines the latest attempt to silence the Kurdish press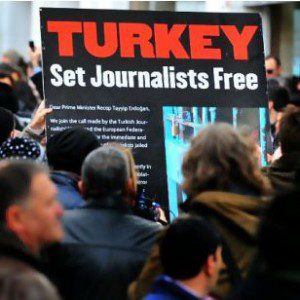 In the latest wave of arrests of those the state claims are linked to the separatist group Kurdistan Workers Party (PKK), 41 people were detained across Turkey on Monday including many journalists. Initial reports placed the number of media workers arrested at 25, but this number rose in the aftermath of the crackdown. Mustafa Özer, the Agence France-Presse photographer, was among those detained in the operation, which is reported to have taken place in the wee hours of the day. Dicle News Agency's offices in İstanbul, Ankara, Diyarbakır, Van, İzmir and Adana were raided and ten staff members were detained, including the agency's news director, editor in chief and various reporters. Five journalists from Turkey's main Kurdish newspaper Özgür Gündem were among those detained, as well as reporters from Birgün and Vatan newspapers.
They are accused of being part of KCK (Union of Communities in Kurdistan), a political organisation formed by the imprisoned PKK leader Abdullah Öcalan. Turkish security forces claim these journalists were part of a propaganda mechanism orchestrated by KCK's ruling committees. Zaman newspaper quoted security sources who claimed that secret messages containing orders to assassinate Turkish soldiers were being distributed via newspaper and television reports from media supportive of the PKK.
For many, this was the latest act in an intense political drama taking place between the Turkish state and Kurdish militants. Tensions between the sides has culminated this year following a violent summer in which many people, including civilians, soldiers and PKK militants, were killed. One member of Turkey's main Kurdish party BDP (Peace and Democracy Party) said the newspaper raids were politically motivated, calling them unjust and illegal. According to Alper Turgut from the Turkish Journalists' Union, these events should be seen as a serious breach of freedom of expression. "The government wants us to be silent while they take away our right to information and freedom of speech," he said. "They want to silence us and we are told that if we are not silent, it will be our turn next."
Members of the ruling AK Party denied allegations that these operations violated Kurdish journalists' freedom of expression. Nevertheless many people remain unconvinced, including ministers of Turkey's main opposition party CHP — one member called the arrests "fascist in nature".
Following the detentions, there were conflicting reports in the Turkish media about the accusations against the journalists. AK Party supporters and some commentators claimed that most of those who were detained in relation to KCK operations were not credible journalists. They cite figures from the Committee to Protect Journalists (CPJ), whose recent reports claimed that there were eight journalists currently imprisoned in Turkey. By contrast, Freedom for Journalists Platform, a Turkish organisation calling for the immediate release of all journalists in Turkey, claimed a much higher figure, 67, a number which includes both Turkish and Kurdish journalists. These numbers, however, were recently challenged by Turkey's interior minister, who said that those arrested were actually accused of various crimes, unrelated to journalism, including membership to a terrorist organisation, forgery in official documents, extortion and stealing documents related to state security and carrying unlicensed weapons.
But prominent Kurdish politicians, like BDP's Hasip Kaplan, say this had long been a tactic of the Turkish state. "It is a project to silence Kurds," Kaplan argued in a parliamentary session this week. "Seventeen years ago the offices of Kurdish newspaper Özgür Ulke were bombed and destroyed. But they failed to silence the free press. Today AK Party is trying to finalise that plan in order to silence Kurdish press once more."
Ahmet Altan, editor of Turkey's leading liberal newspaper Taraf, was among those who criticised the detentions, calling them "ridiculous". "One of those who were detained is accused of writing articles for a website. So is that evidence sufficient to prove one's membership to the KCK? This latest operation, I believe, is a total fiasco. If writing articles, shouting slogans, making comments and being fiery about issues are enough for being a member of the KCK, then those who are in control of these operations have a loose sense of what is legal in this country," he wrote.
In Istanbul's Taksim Square a large demonstration was organised following the detentions. Hundreds of journalists walked in solidarity with the Kurdish press. Following the detentions and protests there were signs of a more liberal approach in parliament towards the issue. Deputy prime minister Bülent Arınç said the Kurdish question was a very serious matter of human rights. "Kurds will have all their rights," he said, "the right to an education, the right to living their culture and the right to speak their own language. We will respect all their rights. They have been living in this country for hundreds of years." His views echoed those of Prime Minister Recep Tayyip Erdoğan, who admitted last month that more than 13,000 Kurds had been killed by the Turkish military in Dersim in the 1930s. Apologising for the massacre, he called it "the most tragic event in our recent history", a tragedy that should never again be repeated.
Kaya Genç is a journalist and novelist

Latest posts by Kaya Genc
(see all)