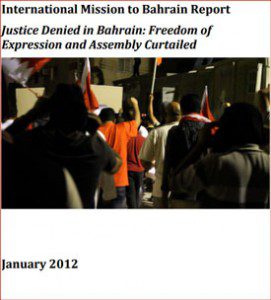 The following report documents the findings of a delegation comprised of representatives from six international rights groups (three members and three partners of the International Freedom of Expression Exchange, IFEX), which carried out a fact-finding mission between 20-30 November, 2011, in order to gain an understanding of the state of free expression and the status of human rights defenders in Bahrain. The 11 recommendations made in this report include calls to end the harassment, imprisonment and prosecution of Bahraini citizens for what essentially amount to persecution of free expression and legitimate human rights work.
The mission team was composed of the Arabic Network for Human Rights Information (ANHRI), Front Line Defenders, the Gulf Centre for Human Rights (GCHR), Index on Censorship, International Media Support (IMS) and the Writers in Prison Committee (WiPC) of PEN International.
Following the fall of authoritarian regimes in Tunisia and Egypt, hundreds of thousands of Bahraini protesters took to the streets of Manama, the capital city, on 14 February, 2011, to peacefully call for democratic reform. Officials were quick to crack down on protests, and the access of the international media was limited almost immediately after the start of the protests. Unlike other citizens demonstrating across the Arab World in 2011, the protests in Bahrain have received very little coverage, particularly considering the disproportionate number of people jailed and killed in the tiny country of 1.2 million people. Furthermore, the messages of the protesters – calling for reform, equal rights and opportunities and greater democracy – have largely been distorted by both the government and the international community which have instead focused on sectarian interpretations and regional geopolitical issues.
The Bahrain Centre for Human Rights (BCHR), an IFEX member and human rights organisation banned in Bahrain since 2004, asked that the government avoid the use of force against the peaceful protests, and respect the rights to assemble and express opinions freely. After an initial violent crackdown, leaving at least one protester dead, authorities in Bahrain seemed to backtrack and allow for protesters to congregate at Pearl Roundabout. Almost a month of openness followed, when demonstrations were allowed to proceed unhindered and prisoners were released (in late February and early March). But on 15 March 2011, King Hamad bin 'Issa Al Khalifa declared a three-month State of National Safety, and a renewed crackdown on protesters took an increasingly violent and repressive turn.
Eight human rights defenders and activists were handed life sentences on 22 June 2011, and 13 others tried in the same case were handed lesser sentences, ranging between two to 15 years. Included in those given life sentences were Abdulhadi AlKhawaja, former head of BCHR and former Middle East and North Africa Protection Coordinator at Front Line Defenders, and Abduljalil al-Singace, renowned blogger and human rights defender, who is head of the human rights office of the Haq Movement for Liberty and Democracy. Another renowned blogger, Ali Abdulemam, creator and owner of Bahrain Online, was also sentenced to life in absentia, after he went into hiding to avoid detention following his previous incarceration when he was badly tortured. One of the 11 recommendations of the mission is to release them immediately.
Although the focus of the mission was on freedom of expression, it was difficult to meet with journalists because many of them were in hiding or out of the country. Two journalists died following torture while in custody in April 2011- Zakariya Al Asheri and Karim Fakhrawi, and the mission calls for a full investigation into their deaths, and proper accountability. Reem Khalifa, a journalist for the independent newspaper Al-Wasat, has been charged with verbally abusing and physically assaulting a government supporter, even though she was the subject of abuse herself. Her case is emblematic of the harassment faced by independent journalists and writers who have spoken out against the violent tactics of the government. During the mission, a member of the mission was able to attend her trial.
A key recommendation of the report is to end the persecution of numerous doctors and medics who helped treat demonstrators and currently face jail terms, as well as many teachers, lawyers, writers, artists and other professionals who have been harassed and persecuted as a result of practising their professions and exercising their right to express themselves freely and peacefully. The mission coincided with the presentation of the report of the Bahrain Independent Commission of Inquiry (BICI) by its Chairperson, Egyptian Cherif Bassiouni to the King on 23 November 2011. The mission explored attitudes and expectations concerning the report before its release, and reactions subsequent to its release. In line with the BICI report, the international mission also insists on accountability for those responsible for violating international human rights norms, in particular those responsible for torture and killing.
The mission met with human rights activists, demonstrators, members of civil society, members of the diplomatic community, members of political parties and government officials. The objectives included gaining an understanding of what occurred in February and March and the current state of free expression, particularly with regard to the government's recent efforts to "heal" and "build a national dialogue." Furthermore, the mission aimed to better facilitate an international conversation on the right to freedom of expression and assembly in Bahrain.