Date: Tuesday 13 November, 6pm
Venue: Free Word Centre (map here)
Guest passes: Available through Eventbrite (register here – SOLD OUT)
Index and SAGE are proud to launch Free Speech Bites, a new podcast series stimulating debate on the biggest topics in freedom of expression. Hosted and edited by author and podcaster Nigel Warburton, the series features celebrated artists, writers and international campaigners, including: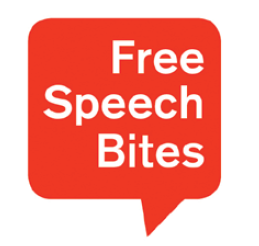 Martin Rowson on Free Speech and Cartoons, Zargana on Free Speech and Burma, Stephanie Merritt on  Giordano Bruno, Irshad Manji on Free Speech and Islam, Denis MacShane on Thomas Paine, Natalia Koliada on Free Speech and Belarus, Ma Jian on Free Speech and China, and Jonathan Dimbleby on Free Speech and Censorship
To celebrate, we're inviting friends and supporters to join us for cocktails and tapas, by our neighbours Morito, at the Free Word Centre between 6-8pm on Tuesday 13 November.
More information about where to listen will be available shortly.
Latest posts by Eve Jackson
(see all)