Date: Saturday 24 Nov, 2-6pm
Venue: Free Word Centre (map here)
Tickets: Free (available here)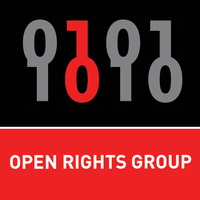 Index on Censorship and the Open Rights Group are bringing together campaigners and activists for a half day of information sharing and strategizing, both to explore the Bill in detail and plan how best to combat it.
Headline speaker Cory Doctorow will be giving his perspective on this piece of legislation, and civil liberties groups including Liberty and Big Brother Watch will lead sessions to plan joint campaign actions, including a mass lobbying of MPs when the bill is published.
The "Snoopers' Charter" – aka the Communications Data Bill – as it
stands will lead to too much information being collected about too many people. Access to that information will be too easy. This will result in accidental or deliberate misuse of the data leading to significant privacy harms.

Join us for this lively Saturday session.
Latest posts by Eve Jackson
(see all)