Azerbaijan's government locks up its online critics on trumped-up charges. It's an odd choice to host a giant international forum on internet freedom and Rebecca Vincent asks international visitors to look below the country's modern veneer

Azerbaijan has a shocking record on free expression. Nine journalists and three human rights defenders are currently in jail — five of these cases are linked to online criticism of authorities. Others have been subject to sustained harassment, including one prominent female journalist who has been the victim of a vicious blackmail attempt.
Yet from 6 to 9 November, more than 1000  representatives of governments, civil society groups, industry and private corporations will descend on the country's capital, Baku, for the seventh annual Internet Governance Forum (IGF), a multi-stakeholder talking-shop established by the United Nations in 2006. Participants' discussions of internet governance will include human rights and freedom of expression.
Any Azerbaijani who dares to exercise their right to free expression in Azerbaijan is taking a big risk. Overstepping the mark on certain taboo subjects online — in particular official corruption and mendacity — has serious repercussions. There has been a string of high-profile cases of punitive action against online government critics.
Earlier this year, Khadija Ismayilova, a journalist with the Azerbaijani arm of Radio Free Europe/Radio Liberty and an avid social networker, was the victim of a crude blackmail attempt. She received an envelope containing pictures of a personal nature and a note saying: "Whore, behave, or you will be defamed." She refused to be silenced — and a week later a film of her having sex taken by a hidden spy camera was posted online. It transpired, after an investigation conducted  by her lawyer and other journalists, that illegal monitoring of her activities began days after she published an story about Azerbaijani President Ilham Aliyev's family's businesses.
T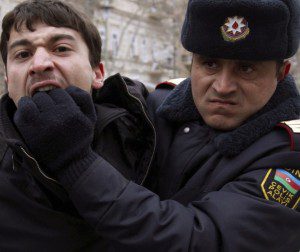 he regime has also used trumped-up charges to persecute critics. The editor of the website azadxeber.org, Nijat Aliyev, has been in detention since his arrest in May on drugs-related charges, and faces up to three years' imprisonment. He has no previous convictions for drug use and is not known to friends as a drug-user. Before his arrest he had attacked government policies on religion and LGBT rights and criticised the cost of hosting the Eurovision Song Contest in Baku this year.
Khayal TV executive director, Vugar Gonagov, and editor-in-chief, Zaur Guliyev, are also in detention. Their crime?  They are accused of uploading a YouTube video showing a regional mayor making derogatory comments about local residents. The video sparked protests and led to the mayor's dismissal. The pair face up to 10 years' in jail if convicted on charges of organising mass disorder and abuse of office.
Human rights defender Taleh Khasmammadov is serving a four-year prison sentence on hooliganism charges. He was arrested in November 2011 after he posted a series of videos on YouTube containing interviews with victims of crimes committed by a gang in the region, which the victims alleged had connections to local police officers.
Freelance journalist Faramaz Novruzoglu is serving a four-and-a-half-year prison sentence on charges of appealing for mass disorder and crossing the border without proper documentation. Before his arrest, Novruzoglu was outspoken on social networking sites, criticising the authorities and calling for protests.
Searching for Freedom: Online Expression in Azerbaijan, a new report by Azerbaijani free expression groups, concludes that internet freedom is seriously constrained in Azerbaijan — a view shared by US human rights group Freedom House in its Freedom on the Net 2012 report.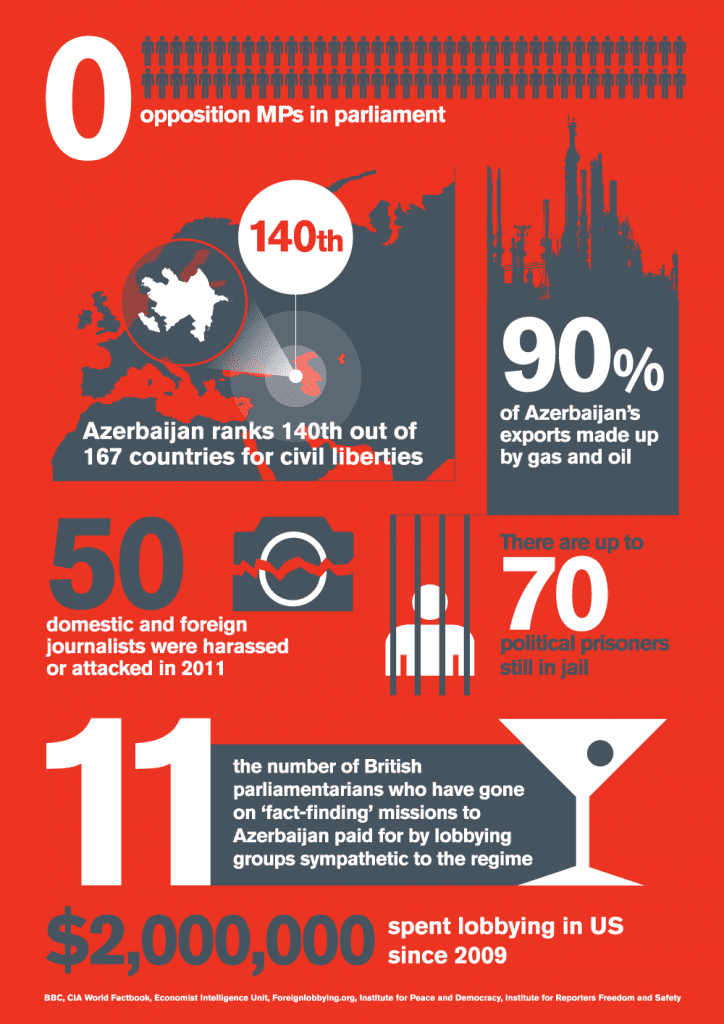 Although there are instances of content blocking and data filtering by the state, from a technical standpoint the internet remains largely a free space in Azerbaijan — and in legal terms there are no restrictions applied to online media.
But there are widespread fears that the authorities will impose registration and licensing requirements on online media outlets in the future. Azerbaijan's Law on Mass Media includes the internet as a form of mass media, meaning requirements applied to other media could be extended to the internet.
Internet regulation is the responsibility not of a politically independent body but of the Ministry of Communications and Information Technologies. And its "Rules for Using Internet Services" contain provisions for an internet kill-switch plan, which contradict international freedom of expression standards.
Cyber-attacks present a further obstacle to internet freedom, notably mutual denial-of-service (DDoS) attacks between groups of hackers in Azerbaijan and Armenia, and in Azerbaijan and Iran. There have been some reports of the use of DDoS attacks by the state: several attacks against the website of the opposition newspaper Azadliq originated from an IP address registered to the Ministry of Communications and Information Technologies.
Six months after Eurovision, the IGF will give Azerbaijan another chance to present itself as a modern, outward-looking nation to the rest of the world. But there is more to this story, and delegates should not be fooled.
Rebecca Vincent is a freelance human rights consultant and expert on freedom of expression in Azerbaijan
More on this story:
In March, The International Partnership Group for Azerbaijan, of which Index is a member, published a report on freedom of expression in Azerbaijan. Read it here.
You can find more about the human rights situation on Index's Azerbaijan: Access Denied page