Belarus is Europe's last dictatorship. Its people have suffered under president Alexander Lukashenko since 1994. Opposition media and activists are silenced by the former Soviet republic's KGB
On 19 December 2010, thousands gathered to protest against rigged presidential elections. In response, Lukashenko's forces staged a brutal crackdown, arresting dozens of political opponents and activists, including seven presidential candidates.
Index immediately set up a campaign to free the jailed political prisoners. Through targeted social media, news articles, blogs, protests and events, Index brought the situation faced by ordinary Belarusians to the attention of the international community. We worked with partners such as the Belarus Free Theatre and Free Belarus Now to stop international banks selling Belarusian government bonds; we lobbied the UK government and EU to institute sanctions; and at our 2011 Annual Awards we honoured all those detained.
After 18 months of persistent campaigning, in April 2012, Belarus caved in and political prisoners, including high-profile opposition leader, Andrei Sannikov, were released. All of this was possible because you helped us. But the story doesn't end here….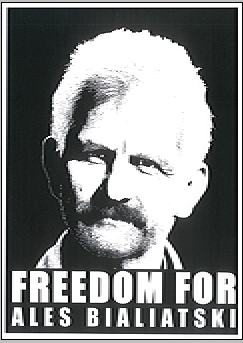 This holiday season activist Ales Bialiatski is still in solitary confinement in Belarus. He recently told Index how just receiving photos and cards from our supporters on his 50th birthday let him know that people are fighting for his cause and keeping international attention on his plight.
Help us to fight for the release of Ales, for free speech for everyone in Belarus, and around the world.
Latest posts by Emily Butselaar
(see all)