With the 14 June presidential election approaching, Iran's leaders are moving to prevent the outburst of protest that followed the disputed 2009 poll by tightening access to the web and silencing "negative" news. Raha Zahedpour reports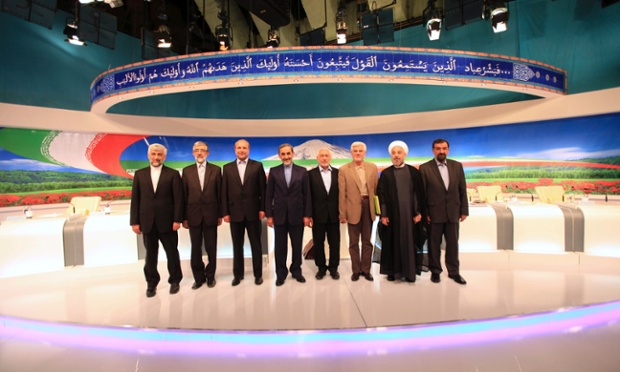 Iran's state television this week held the second of three presidential debates. Unlike the 2009 debates, no one-on-one debating was allowed. In these debates, resembling game shows, candidates have less than five minutes to talk about their policies on different issues, and other candidates were chosen at random to question the speaker. Candidates were then left with very limited time to conclude after the end of questions.
The eight qualified candidates could not escape Iran's strict censorship during their campaigns. Iranian state TV censored reformist candidate Mohammad Reza Aref's speech in a programme broadcast for the Iranian diaspora on 26 May. The recording was halted and not resumed.
In another programme on the domestic Channel One, conservative candidate Mohsen Rezaei was censored for talking about how unemployment devastated a family who lost their children in the war, and were led to suicidal thoughts as a result of pressures from the economic crisis and inflation.
State television censored documentaries made by the campaigns of each candidate — including Saeed Jalili, Ayatollah Khamenei's favoured candidate — showing that even a favourite could not escape the sharp blades of censorship.
Iran carefully vetted the candidates in this year's race: Hashemi Rafsanjani and Rahim Mashaei were disqualified from the upcoming presidential election by Iran's Guardian Council. Hashemi Rafsanjani, 78, was dropped from the race for being too old. Mashaei was disqualified because he promotes nationalism and nationalist Islam — despite being a part of hard-liners faction.
Even before the election's candidates were announced, Iran's ruling elite moved to slow internet connections, blocked access to Gmail accounts, and clamped down on circumvention tools. All over the country, Iranians are struggling to access social media, or even check their email.
Authorities have also tightened up web censorship — censoring even influential political figures close to the government. A blog belonging to one of Rafsanji's advisors was blocked recently. The move raised eyebrows, because Hashemi Rafsanji is key revolutionary figure, a former president, a former head of Parliament and the current chairman of the Expediency Discernment Council of Iran.
Iran also shut down sites aligned to presidential hopeful Efandiar Rahim Mashaei.
Meanwhile, Ahmadi Moghadam, the chief commander of Police, said that the authorities would not allow any distractions around the election. Following the announcement, jailed journalists and bloggers who were released after being imprisoned and sentenced after the 2009 uprising were arrested once more. Former presidential candidates Mir Hossein Mousavi and Mehdi Karroubi are still under house arrest.
Iran's press has also faced enormous challenges in reporting on the election. The ministry of Culture and Islamic Guidance invited journalists to a seminar about what could be reported. Officials emphasised that "negative news" should not be published. Subsequently, some papers received official notices for their content. The websites of reformist newspapers Mardom Saalaary and Bahar were blocked, even though print editions of the newspapers continued to be distributed
In light of restrictions, rights organisations have cast doubt on the election's freedom. In a 24 May statement Human Rights Watch asked, "How can Iran hold free elections when opposition leaders are behind bars and people can't speak freely?"
Raha Zahedpour is a journalist and researcher living in London. She writes under a pseudonym