In a bid to gain control of Taksim Square, Turkish security forces last night clashed with antigovernment protesters camped out in Istanbul's centre. Sara Yasin reports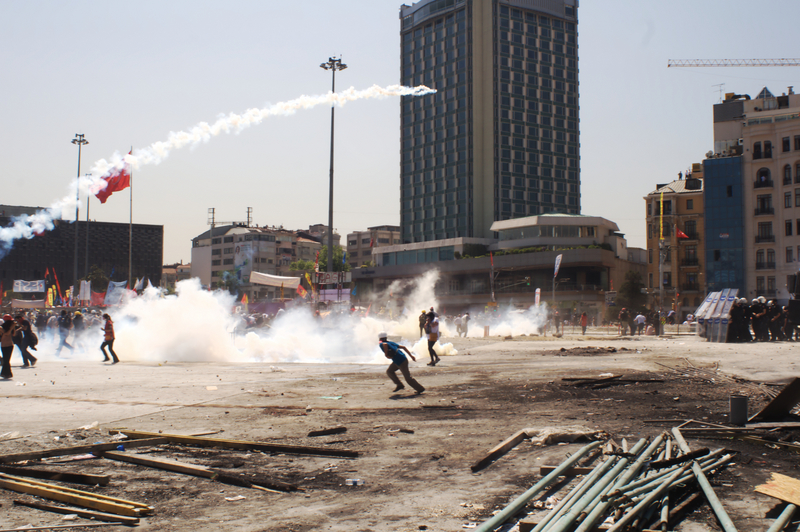 Riot police raided Istanbul's Taksim Square last night, in efforts to implement promises of Turkish Prime Minister Recep Tayyip Erdoğan, who vowed to bring an end to anti-government protests. Bulldozers cleared out barricades in the square early this morning.
The square was the site of an overnight territorial battle between protesters and security forces, who fired tear gas, stun grenades, water cannons, and rubber bullets onto the crowd. In the 10 days since unrest began in the country, three have been killed, 600 police officers injured, and approximately 5,000 wounded according to the Turkish Medical Association.
On BBC Radio 5 live this morning, Index on Censorship CEO Kirsty Hughes said that Erdoğan's response "has been increasingly heavy-handed, and not constructive and open towards demonstrators."
"In the last 24 hours, and just overnight last night, he's veered towards a very tough response, which I think is going to inflame the situation," Hughes added.
Several hundred protesters remain camped out in the neighbouring Gezi Park, where protests were initially sparked over a plan to turn the green space into a shopping mall, which snowballed into countrywide protests against the current government.
Turkey's Broadcasting Authority yesterday said that four stations will be fined for covering the unrest, accusing them of incitement to violence.
Addressing a crowd including Erdoğan in Istanbul this week, EU commssioner Štefan Füle was critical of the government's violent crackdown on protesters, and called for a "swift and transparent" probe into the violence. He also said that countries wishing to gain entry to the European Union should "aspire to the highest possible democratic standards and practises."
Latest posts by Sara Yasin
(see all)