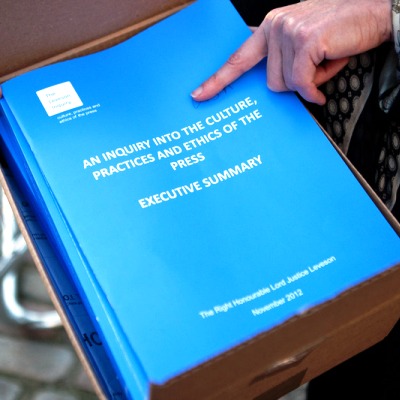 In an editorial published this morning, the Financial Times announced its support for the Royal Charter on press regulation put together by the newspaper industry.
The article said that while the FT agreed with the need for a "robust and independent regulation", a new regulator should be "proportionate and sustainable."
The article continued:
"Well-meaning reforms should not open the door to state interference in Britain's free press."
Acknowledging that the press had reluctantly accepted that there would be a royal charter for regulation of the press, the Financial Times argued:
[C]ertain points are non-negotiable. If press freedoms are to be preserved, the regime must be genuinely voluntary. It should also balance public protection with freedom of expression. A financially weak press should not be loaded with onerous obligations that deter it from pursuing contentious issues, where reporting serves the public interest and holds the powerful to account.
The industry's plans to create the Independent Press Standards Organisation were revealed earlier this month. Index on Censorship greeted the proposal as "a starting point for proper discussion on the future".
Hacked Off, which supports the government's regulation proposal, reacted angrily to the Financial Times' suggestion that that document had been "assembled over pizza in the early hours of the morning this spring".
Director Brian Cathcart denied his group had been present at late-night negotiations, pointing out: "No pizza was served, or at least we saw none."