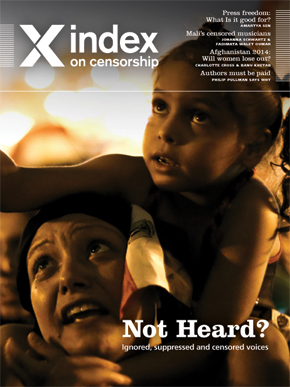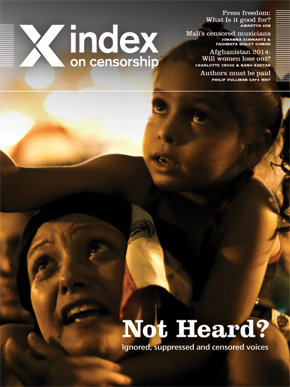 FEATURING SARAH BROWN IN CONVERSATION WITH HELEN LEWIS (New Statesman)
Join us in the heart of an inner London school community to launch the Autumn magazine with its special report on suppressed, ignored and censored voices – spotlighting silenced groups from around the world.
Join Sarah Brown in conversation with Helen Lewis, see an exclusive preview of They Will Have To Kill Us First the upcoming documentary from award-winning film-maker Johanna Schwartz, and catch Wail Gzoly's startling Egyptian street photography.
Spirited debate, invigorating art and a free drinks reception at Lilian Baylis, a tiny but brilliant comprehensive school in the shadows of Westminster.
@IndexEvents – #notheard
When: Tuesday 15th October, 6:30 reception, 7:00-8:00pm event.
Where: Lilian Baylis School, SE11 5QY (Map/directions)
Tickets:Free, registration is required as space is limited.