Belarus publisher loses licence after printing protest pictures
Exhibition catalogue included pictures of bloodied anti-Lukashenko demonstrator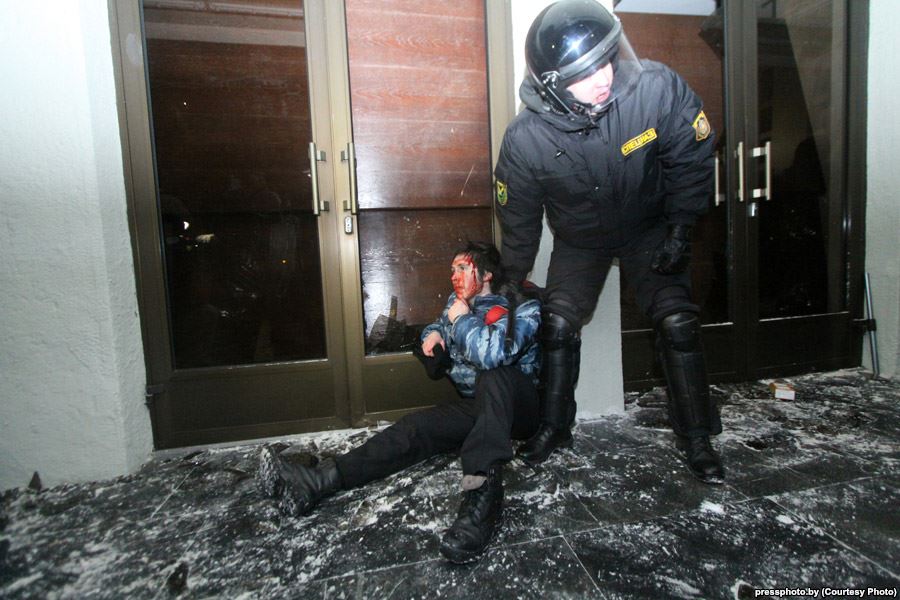 The Supreme Economic Court of Belarus has upheld a decision by the Ministry of Information to cancel the licence of the Lohvinau Publishing House.
The company, owned by Ihar Lohvinau is well-known for publishing independent Belarusian literature and promoting national culture.
In September 2013 the Ministry of Information decided to withdraw its publishing license "for gross violations of the licensing legislation."
The reason for the decision was Lohvinau's publication of the Belarus Press Photo 2011 album, which was found to contain "extremist material" by a district court in Ashmiany in April 2013.
"It is quite obvious that the decision is unfair and we are going to seek justice. The Ministry of Information didn't provide us with answers to our questions in the court room. We are going to appeal against the decision," said Ihar Lohvinau after the hearings on 18 November 2013.
"The Ministry of Information interprets the licensing law too broadly; the licensing regulations in Belarus contain no reference to any 'extremist materials'. Besides, the photo album in question was published long before it was considered 'extremist', it was sold freely in book shops, and the publisher bares no responsibility for the content of it or any later court decisions," says Andrei Bastunets, a media lawyer and a Vice Chairman of the Belarusian Association of Journalists.
Belarusian law does not contain a clear definition of extremism, thus allowing arbitrary implementation of anti-extremist legislation. It has been used to silence critical voices and independent media in the country in the past.
As well as pictures of cute animals, the album, printed to accompany an exhibition of the best of press photography, featured images of bleeding protesters taken during a crackdown on an anti-government demonstration in Minsk after the presidential election of 2011.