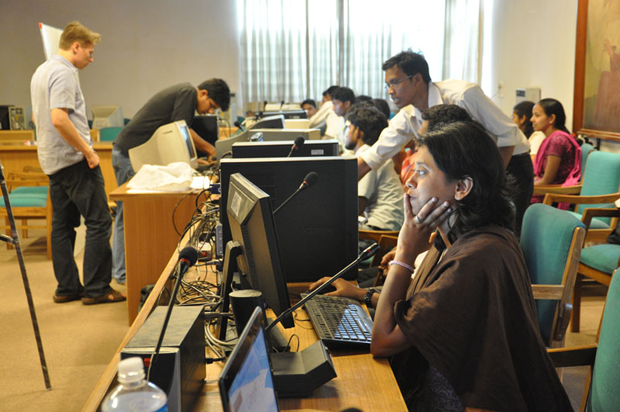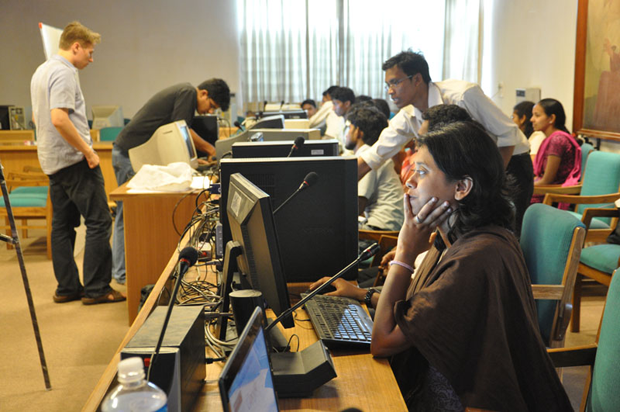 ---
CONTENTS
Introduction and Recommendations | 1. Online censorship | 2. Criminalisation of online speech | 3. Surveillance, privacy and government's access to individuals' online data | 4. Access: obstacles and opportunities | 5. India's role in global internet debates | Conclusion
---
(2) CRIMINALISATION OF ONLINE SPEECH AND SOCIAL MEDIA
The criminalisation of online speech in India is of concern as the authorities have prosecuted legitimate political comment online and personal views expressed on social media. New free speech opportunities offered by social media usage in India have been diminished after the introduction of provision 66A of the IT Act and the arrest of a number of Indian citizens for posting harmless content.[20] This chapter looks at how Section 66A constitutes a significant impediment to freedom of expression and will demonstrate the need to reform the law.
In 2011, Communications Minister Kapil Sibal asked Google, Facebook and Yahoo! to design a mechanism that would pre-filter inflammatory and religiously offensive content.[21] This request was not just, as noted at the time, technologically impossible, it was also a clear assault on free speech. The request demonstrated that even if Section 66A were reformed, further work would still be needed to prevent politically motivated crackdowns on social media usage.
Section 66A of the IT Act is both overly broad and also carries a disproportionate punishment. The section punishes the sending of "any information that is grossly offensive or has menacing character" or any information meant to cause annoyance, inconvenience, obstruction, insult, enmity, hatred or ill will, among other potential grievances. The provision carries a penalty of up to three years imprisonment and a fine.
---
IT (Amendment) Act 2008
66A: Any person who sends, by means of a computer resource or a communication device, —
      (a) any information that is grossly offensive or has a menacing character; or
      (b) any information which he knows to be false, but for the purpose of causing annoyance, inconvenience, danger, obstruction, insult, injury, criminal intimidation, enmity, hatred or ill will, persistently by making use of such computer resource or a communication device; or
      (c) any electronic mail or electronic mail message for the purpose of causing annoyance or inconvenience or to deceive or to mislead the addressee or recipient about the origin of such messages, shall be punishable with imprisonment for a term which may extend to three years and with fine.
---
Much of the 2008 law historically stems from the 1935 UK Post Office (Amendment) Act, which related to telephone calls and telegraph messages. Rather than update the law to remove this dated provisions, the Indian government decided to extend them to new technologies.
Of particular concern is that there have been a number of arrests made under Section 66A for political criticism on Facebook, Twitter and even via private email.  This is a worrying trend that may indicate an intolerance towards public interest speech about politicians that ought to be protected. Criminal and civil cases have also been brought against dozens of internet companies for failing to remove content deemed by some to be defamatory or religiously offensive.[22] Indians new to social media are learning to navigate the red lines of free speech or face prosecution. This degree of censorship is unwelcome in a functioning democracy.
For example, two women were arrested in 2012 for their use of Facebook, one for criticising disruptions in Mumbai during a politician's funeral and the other for "liking" her friend's comment (see case study). The two women were arrested under Section 66A and their arrest soon sparked public outrage, with the Times of India newspaper denouncing "a clear case of abuse of authority" by the police.[23]
---
Case study: Facebook arrests
On Sunday 18 November 2012, a 21-year-old Mumbai woman, Shaheen Dhada, shared her views on Facebook on the shutdown of the city as Shiv Sena chief Bal Thackeray's funeral was being held. Her friend Renu Srinivasan "liked" her post. At 10.30 am the following day, they were both arrested and were ordered by a court to serve 14 days in jail. Hours later, they were eventually allowed out on bail after paying two bonds of Rs. 15,000 (£145) each.
Dhada had posted, "Respect is earned, not given and definitely not forced. Today Mumbai shuts down due to fear and not due to respect". A local Shiv Sena leader filed a police complaint and Dhada and Srinivasan were booked under Section 295 A of the Indian Penal Code (IPC) for "deliberate and malicious acts, intended to outrage religious feelings or any class by insulting its religion or religious beliefs."  Subsequently they were also charged under Section 505 (2) of the IPC for making "statements creating or promoting enmity, hatred or ill-will between classes", and the police added Section 66A of the IT Act to the list of charges.
After a significant public outcry, charges were finally dropped. Other recent examples include a 19-year-old, Sunil Vishwakarma, who was detained for a derogatory Facebook post against a politician.[24] "We have received a complaint that he posted some objectionable comments against Raj Thackeray", said an officer at Palghar police station. The police did not charge the teenager. He was questioned and later taken to a special cyber-crime cell before being released. In October 2012, Ravi Srinivasan, a 46-year-old businessman in the southern Indian city of Pondicherry, was arrested for a tweet criticising Karti Chidambaram, the son of Indian Finance Minister P Chadambaram. He was later released on bail.
---
Popular outrage over the police's misuse of Section 66A led the Minister for Information and Communication Technology, Kapil Sibal, to issue a guidance to states on how to implement the controversial section of the IT Act.[25] However, there remain ongoing issues relating to political interference in law enforcement itself and to the vague wording of the law itself, with the use of the terms "annoyance" and "inconvenience" overly broad, giving the authorities a wide scope to criminalise comment and opinion.[26]
Despite top-down resistance to change, there is a push for reform of the law. Beyond the guidelines issued in late 2012 to prevent misuse of Section 66A, a revision of the law itself is still needed to prevent warrantless arrests and prosecutions. Civil society and political pressure to reform the law have recently increased. In 2012, cartoonist Aseem Trivedi and journalist Alok Dixit founded Save Your Voice, a movement against internet censorship in India that opposed the IT Act and demands democratic rules for the governance of internet.[27] The Minister for Information and Communication Technology has acknowledged there is an issue over the interpretation of 66A: "It's very difficult to interpret the act on the ground. If you give this power to a sub-inspector of police, it is more than likely to be misused".[28] Yet, he has defended the controversial law and resisted change, justifying his decision by saying that there was "no rampant misuse".[29]
In January 2013, Rajeev Chandrasekhar, member of the upper house of the Indian Parliament, filed a petition to the Indian Supreme Court challenging Section 66A and the Information Technology [Intermediaries Guidelines] Rules for being "arbitrary and uncanalized, […] and in violation of the rights available to citizens under Articles 14, 19 and 21 of the Constitution." Five other petitions related to the IT Act are currently under review by the Supreme Court. The Supreme Court has directed that pleadings will be listed before the Court in the first week of January 2014. This is a welcome step but the Supreme Court must deal with these cases as a matter of urgency and even in the case of success for the petitions, these decisions will require political will to be implemented.
The criminalisation of online speech and social media usage is a serious threat to freedom of expression in the country. The use of "offence" to silence political criticism online jeopardises free speech as a fundamental right necessary for public debate in a democracy. It is clear that there is the need and the public will to reform the law. The arrests and prosecution of citizens for innocuous messages has tarnished India's image as the world's largest democracy. While the 2014 General Elections offer a window of opportunity for change, the Indian authorities must undertake reform of the IT Act and end resistance to change.
---
CONTENTS
Introduction and Recommendations | 1. Online censorship | 2. Criminalisation of online speech | 3. Surveillance, privacy and government's access to individuals' online data | 4. Access: obstacles and opportunities | 5. India's role in global internet debates | Conclusion
---
This report was originally posted on 21 Nov 2013 at indexoncensorship.org
---
[20] BBC News, 'Outrage at India arrests over Facebook post' (20 November 2012), http://www.bbc.co.uk/news/world-asia-india-20405193 accessed on 5 September 2013.
[21] The Hindu, 'Sibal warns social websites over objectionable content' (6 December 2011), http://www.thehindu.com/news/national/sibal-warns-social-websites-over-objectionable-content/article2690084.ece accessed on 5 September 2013.
[22] Freedom House, 'Freedom on the Net 2012: India', http://www.freedomhouse.org/report/freedom-net/2012/india accessed on 9 September 2013.
[23] Times of India, 'Shame: 2 girls arrested for harmless online comment' (20 November 2012), http://articles.timesofindia.indiatimes.com/2012-11-20/mumbai/35227016_1_police-station-shiv-sainiks-police-action accessed on 5 September 2013.
[24] Indian Express, 'Now Palghar police detain 19-year-old for Facebook post on Raj Thackeray' (28 November 2012), http://www.indianexpress.com/news/now-palghar-police-detain-19yrold-for-facebook-post-on-raj-thackeray/1037462/ accessed on 5 September 2013.
[25] New guidelines require that no less than a police officer of a rank of Deputy Commissioner of Police will be allowed to permit registration of a case under provisions of the Information Technology Act.
[26] Some provisions in Section 66A were purportedly drafted to prevent spam – messages typically sent in bulk and unsolicited.
[27] Save Your Voice, a movement against web censorship, http://www.saveyourvoice.in/p/about.html
[28] Lakshmi Chaudhry, First Post, 'The real Sibal's law: Resisting Section 66A is futile', http://www.firstpost.com/politics/the-real-sibals-law-resisting-section-66a-is-futile-541045.html?utm_source=ref_article accessed on 18 November 2013.
[29] Nikhil Pahwa, Medianama, News and Analysis of Digital Media in India, 'Sibal defends IT Act Section 66A in Parliament: Notes', http://www.medianama.com/2012/12/223-sibal-defends-it-act-section-66a-in-parliament-notes/ accessed on 18 November 2013.