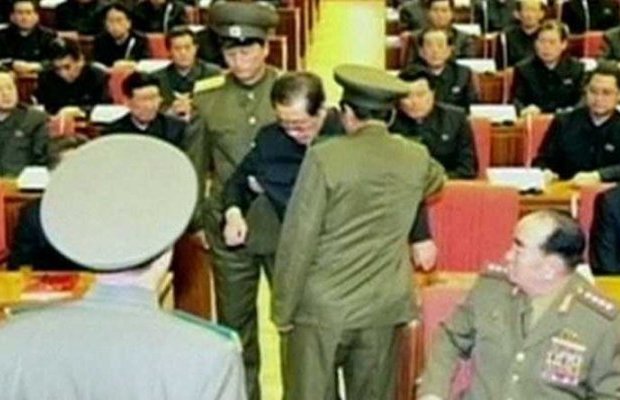 North Korea has expanded its deletion of a few hundred online articles mentioning Jang Song Thaek, the executed uncle of Kim Jong Un, to all articles on state media up to October 2013, numbering in the tens of thousands.
"It's definitely the largest 'management' of its online archive North Korea has engaged in since it went online. No question," Frank Feinstein, North Korea news analyst, told this writer on Sunday (15 December).
The Korean Central News Agency (www.kcna.kp), the state's main organ,  started publishing in its current online form on 1  January, 2012, and had some 39,000 Korean-language articles by mid-December 2013, with many translated into other languages. "Now however there are now no articles in the archive from prior to October 2013, with everything numbered to around 35,000 – or to October this year – gone," said Feinstein, director of KCNA Watch, which analyses North Korean media for keywords and converts that into visual data to gauge reporting trends. Similar proportions of deletions were true for Korean Workers' Party paper Rodong Sinmun and www.uriminzokkiri.com.
Just four days passed from the arrest Kim Jong Un's uncle Jang, which was televised across North Korea, to his execution on 12 December 12. Thereafter the expurgation of any mention of Jang from the state news files took just hours. Following outages that to seemed affect several state online news sources, of some 550 Jang-related Korean articles on www.kcna.kp, Feinstein estimated that by late Friday, "every single one has either been altered, or deleted, without exception".  This included the most anodyne reports such as a 5 October KCNA story about Kim Jong Un visiting a hospital under construction now reads: "He personally named it 'Okryu Children's Hospital' as it is situated in the area of Munsu where the clean water of the River Taedong flows." But the original had continued: "He was accompanied by Jang Song Thaek, member of the Political Bureau of the CC, the WPK and vice-chairman of the NDC, and Pak Chun Hong, Ma Won Chun and Ho Hwan Chol, vice department directors of the CC, the WPK."
Other examples are at the KCNA Watch site, and as also observed by North Korea watcher, Martyn Williams at www.northkoreatech.org.
What's new about the North's retrospective media management is its scale and that it's doing it online, before a global audience. "This is North Korea censoring itself to the world – not just to its own citizens…Personally, I can't believe they could think they'd get away with this sort of revisionism," said Feinstein.
Nonetheless, the North can sustain its digital Ministry of Truth antics on the World Wide Web by preventing its output from being indexed. 'It already works on KCNA – Google can't index it at all. You can't even link to an article on KCNA,' said Feinstein, pointing to Google's entire, paltry record of KCNA's office in Pyongyang via this link.
It's not clear even if South Korean intelligence or news agency Yonhap can archive KCNA's database in its live form. "While North Korea doesn't understand much about how to successfully operate online, they do understand this much."
One theory contends that the North publishes different propaganda for internal and external consumption. For sure, North Korean people can only access news produced by the North Korean state, accessing www.kcna.kp through the country's intranet, but more likely from the state TV, radio or newspapers on station platform hoardings of which obviously none enable access to digital or visual archives. TV has also been noted as adjusted, with a documentary first shown on 7 October 2013 being reshown on 7 December with Jang cut out of shots by adjusted focus and framing.
The upshot is this: "Our party, state, army and people do not know anyone except Kim Il Sung, Kim Jong Il and Kim Jong Un," according to the sole English-language article left on KCNA that mentions Jang, a vicious 2,750-word denouncement from 13 December 13. The piece calls Jang "impudent, arrogant, reckless, rude and crafty," "despicable human scum … worse than a dog," who, backed by "ex convicts", had plotted to destroy the economy before "rescuing" the country by military coup and billions earned from hoarded precious metals.
"They are serious about removing him from history,' said Feinstein, except for passages such as "the era and history will eternally record and never forget the shuddering crimes committed by Jang Song Thaek, the enemy of the party, revolution and people and heinous traitor to the nation," which concludes the KCNA piece. Meanwhile, "Rodong Simnun no longer knows Jang as anything other than a traitor," tweeted Korea historian and linguist, Remco Breuker.
Traffic to www.kcna.kp has never been higher, even than for the death of Kim Jong Il, as people now follow stories to the source and are captivated by the apparent novelty of North Korea having an online presence, and one that uses such bizarre language. "Once they find KCNA, there's no going back." KCNA's legitimacy as an analytical source for the North Korean state's views is oft obscured by its saltier reportage.
Outside news sources are also sensationalist. While most Pyongyang watchers agree Jang was shot dead, Taiwanese news reported he'd been eaten by 120 dogs in front of Kim Jong Un and 300 government ministers in an hour-long death. Feinstein also pointed to a globally syndicated article before Jang's trial that precipitously claimed www.kcna.kp had cleared out all Jang articles, when in fact articles mentioning Jang were still up. Basically, KCNA "has a bad search function", said Feinstein.
While the case provides a tantalising view of what the Soviets might have done in the Internet age, it has also pushed out of the headlines another North Korea story, the release of American tourist Merrill Newman who had been held in North Korea since October on charges of "espionage" relating to his military service in Korea during the 1950-1953 war. Newman, who had gone to North Korea as a tourist,  said he had not understood quite how far the North Korean state does not consider the war to be over – something arguably partly attributable to the US media barely ever mentioning the conflict, despite the country still being not at peace with North Korea.
Ironically, KCNA Watch has been blocked in South Korea since 25 October. Visitors to the site hit a Korea Communications Standards Commission (KSCS) blocking screen that says "connection to this website you tried to access is blocked as it provides illegal/hazardous information," under the 1948 National Security Act, which restricts anti-state acts or material that endanger national security, including all printed and online matter from Pyongyang. Civilians seeking to analyse KCNA material in South Korea need official clearance, with the data viewed under armed guard and deleted immediately afterwards, said Feinstein. The block extends to foreign embassies in Seoul and is under increasing criticism as a blanket weapon for stifling dissent. In August the UN special rapporteur on human rights Margaret Sekaggya called it "seriously problematic for the exercise of freedom of expression".
Sybil Jones