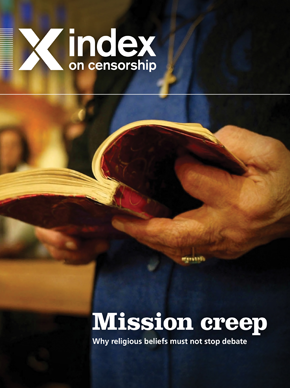 The upcoming winter issue of Index on Censorship magazine includes a special report on religion and tolerance, with articles from around the world.
Writers include the Bishop of Bradford, Salil Tripathi, Samira Ahmed and Kaya Genc. There's an interview with Gurpreet Kaur Bhatti ahead of the opening of her new play, and 10 years after Behzti; while cartoonist Martin Rowson writes and draws about how comedy and religious offence come into conflict. Natasha Joseph writes from South Africa on why some portraits of President Zuma made him see red. Alexander Verkhovsky discusses the new blasphemy law in Russia, and former BBC mobile editor Jason DaPonte discusses why computer games are not all bad.
As part of the special report, writer Brian Pellot goes online with the Mormons to see how they use technology to talk to the unconverted, and asks if online chats will replace missions. Germans have been outraged by the revelations about US and UK surveillance, now they have plans to do something different to put a stop to snooping in the future, Sally Gimson reports. From Brazil, Ronaldo Pelli looks at the reaction to people practising religions of African origin, and investigative writer and author of Fast Food Nation Eric Schlosser talks about the threats to investigative journalism now and in the future.
Also in this issue:
Padraig Reidy on flags, controversy and Northern Ireland
Xiao Shu on the Chinese crackdown on the New Citizens' Movement
Kaya Genc on the rise of a new type of media in Turkey

Latest posts by Rachael Jolley
(see all)