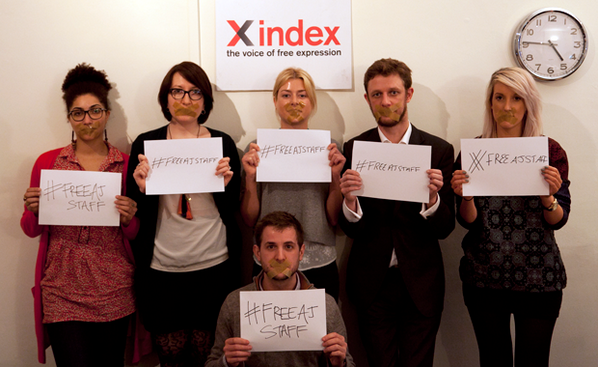 Peter Greste and his colleagues Mohammed Fahmy and Baher Mohamed have been imprisoned in Egypt since 29 December 2013. They are now on trial facing charges related to terrorism, along with six other journalists being tried in absentia. They are among many local Egyptian journalists and media workers who have been detained by the Egyptian authorities.
Please join the world's press in a Global Day of Action on
Thursday 27 February
 with peaceful demonstrations, silent protests and individual images to demand their release. Send a message to Egypt and the world: if you silence the press, you silence us all.
What we can do in the UK:
In London – supporters are to meet at 
Trafalgar Square at midday on 27 February
 – taping their mouths closed in solidarity.
Across the UK – newsrooms, offices, shops, commuters, tourists – are asked to stop at midday and cover their mouths with whatever is at hand, take a selfie and post it online using the hashtag #FreeAJStaff.
Please sign the Petition, pass the message on and join this Global Day of Action in any way you can: