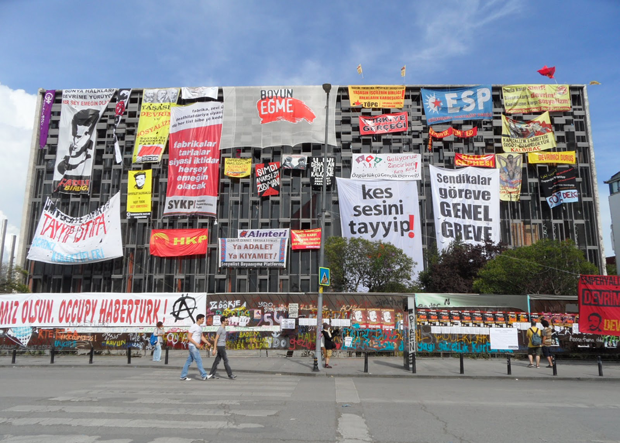 Limitations and challenges to freedom of expression and of assembly in Turkey have – once again – come to international attention over the past year. But despite this, censorship of the arts is often under-reported.
Siyah Bant was founded in 2011 as a research platform that documents censorship in the arts across Turkey by a group of arts managers, arts writers and academics working on freedom of expression. The group is concerned that many instances of censorship in the art world, especially in the visual and performing arts, were under-reported and only circulated as anecdotes. Siyah Bant also found the blanket understanding that "it is the state that censors" to be insufficient.
The Gezi Park protests that began in late May 2013 not only highlighted the continued existence of police violence and the institutionalized use of excessive force that has long been a familiar sight in the Kurdish region, and, more recently, in the protests against hydroelectric plants in the Black Sea parts of Turkey. The demonstrations also made apparent the tight grip that the alliance of political establishment and business conglomerates have over Turkish print and broadcasting media, as numerous journalists were fired for reporting on the anti-government protests.
Together with China and Iran, Turkey has been taken the lead in terms of numbers of imprisoned journalists, many of which are charged under anti-terrorism laws. Currently, all eyes are on the amendments to internet law 5651 that passed parliament in early February 2014, now waiting to be signed into effect by President Abdullah Gül.
While the government claims these changes are to ensure privacy and clamp down on pornography, activists maintain that the law will procedurally ease the profiling of internet users and effectively heighten government control over online content. Turkey has already a questionable track record when it comes to internet freedom with access to more than 40,000 internet sites being restricted.
Rather than operating through bans and efforts at complete suppression that marked the 1980 coup d'état and its aftermath, the current censorship mechanisms in Turkey aim to delegitimize and discourage artistic expressions and their circulation.
Siyah Bant's initial aim was two-fold: Firstly, the group conducted research in five cities to identify and examine different modalities of censorship and the actors involved in censoring motions. Secondly, Siyah Bant wanted to create awareness around censorship in the arts and facilitate solidarity networks in the advocacy for freedom of expression in the arts.
In the course of its research it set up a website that documents arts censorship in Turkey and assembled two publications. The first presents selected case studies of censorship in the arts in Turkey as well as international initiatives in the fight for freedom of expression. The second focuses more closely on artists' rights and the legal framework of freedom of the arts in Turkey as well as the ways in which these laws are applied–or not applied, in most cases.
The reports below center on new developments in Turkish cultural policy and their effects on freedom of arts as well as interviews conducted in Diyabakir and Batman where artists engaged in the Kurdish rights struggle have long been subjected to differential treatment by the Turkish authorities. Research for these reports was supported by the Friedrich Ebert Foundation.
• Developments in cultural policy and its effects on freedom of the arts, Ankara
• Artists engaged in Kurdish rights struggle face limits on free expression
This article was published on 13 February 2014 at indexoncensorship.org
Banu Karaca is a Visiting Assistant Professor at Sabanci University and a founding member of Siyah Bant.

Pelin Başaran is an arts producer and a founding member of Siyah Bant.

Siyah Bant is a research platform that documents censorship in the arts across Turkey and advocates for freedom of expression.
Latest posts by Pelin Başaran and Banu Karaca (see all)