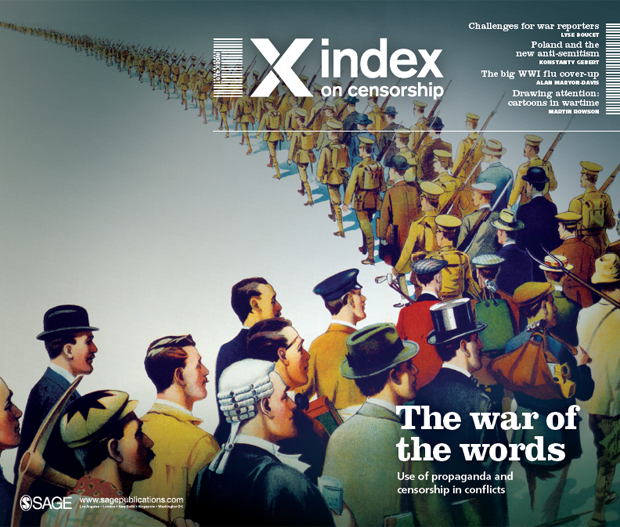 Join us at the Hay Festival to debate what happens to the truth during wars and conflicts. Where is the line between national security and public information? Is it ever right not to tell the whole truth?
These issues are discussed in the latest Index on Censorship magazine, looking back to World War I, and bringing the debate up to date with discussions on war reporting in Syria and Afghanistan today.
This Index on Censorship magazine platform at Hay features David Aaronovitch (columnist/broadcaster and Index chair), Alan Maryon-Davis (writer/broadcaster and doctor), Leanne Green (Imperial War Museum) and is chaired by Rachael Jolley (editor, Index on Censorship magazine).
WAR AND PROPAGANDA launches the Spring edition of Index on Censorship magazine with its special report on the use of propaganda and censorship during conflicts, marking the centenary of the beginning of World War I. Each attendee will receive a free copy of the magazine.
When: Sunday 25th May, 7:00pm
Where:  Llwyfan Cymru – Wales Stage, Hay Festival
Tickets: Reserve your tickets (public booking opens Wednesday 9th April, 10pm)