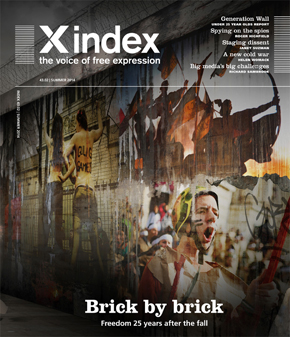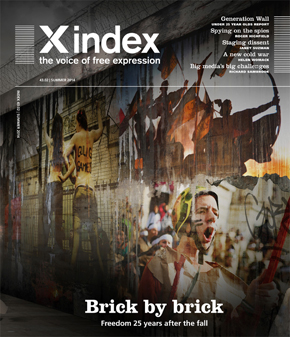 Flourishing, inclusive and just – or blisteringly unequal, subtly repressive and endemically corrupt? Debating freedom 25 years after the fall. 
In 1989, the border separating eastern and western Europe opened as communism collapsed. Twenty-five years after the event that came to symbolise the end of the Cold war, our latest magazine explores how the continent has changed. Are any of us truly freer now than we were then?
Join us for a summer drinks reception on the beautiful terrace of the Goethe Institut and a lively Question Time-style discussion, chaired by editor of Index on Censorship magazine Rachael Jolley.
Featuring:
•    David Edgar, playwright
•    Timothy Garton Ash, historian, author of The Magic Lantern and The File
•    Martin Roth, director of the V&A, former director Dresden State Art Collections
•    Polish philosopher and LGBT activist Tomasz Kitlinski
•    Kate Maltby, editor Bright Blue Magazine and journalist
•    Sebastian Borger, German author and journalist
When: Thursday 10th July, 6:00 reception, 6.30-7.30pm event, drinks after
Where: Goethe Institut, Exhibition Road, London, SW7 2PH (Map/directions)
Tickets: Free, registration is required as space is limited.
@IndexEvents – #AfterTheWall
BRICK BY BRICK launches the summer edition of the Index on Censorship magazine. Subscribe to Index on Censorship magazine for one issue or for the entire year and in print, online or by app.
Presented in partnership with