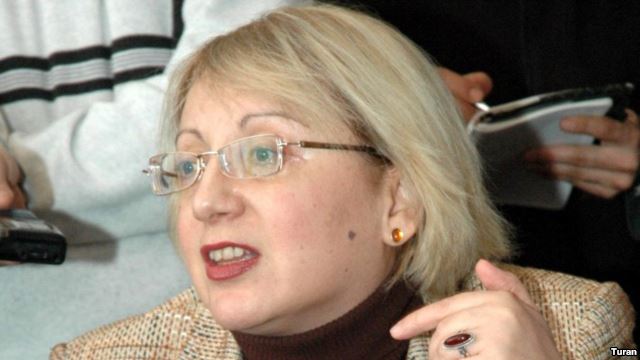 UPDATE 30 July 17:30 pm
Leyla Yunus has been charged with "high treason (article 274), tax evasion (article 213), illegal entrepreneurship (article 192), forged documentation (article 320) and fraud (article 178.3.2)", reports Meydan TV. She has also been given three months of pre-trial detention, according to Azerbaijani journalist Khadija Ismayilova. Her husband Arif Yunus is reportedly facing two charges; state betrayal (article 274) and fraud. 
—
Azerbaijani human rights activist Leyla Yunus has been taken to the prosecutor's office in Baku for questioning, local media reported.
While on her way to a conference this morning, three men entered her taxi and confiscated her and her driver's mobile phones. According to her husband Arif Yunus, she is not allowed to see her lawyer.
"It is likely [they] are going to try and arrest her as part of Mirkadirov's case. It is also likely I too will be arrested," he told BBC Azerbaijan. He was referring to the case of journalist Rauf Mirkadirov, who was arrested in April and charged with espionage, believed to be linked to his contact with Armenian civil society. Leyla Yunus has spoken out in support of him. Mr. Yunus also said people were trying to break into the couple's apartment this morning.
Leyla Yunus is the director of the Peace and Democracy Institute, which among other things works to establish rule of law in Azerbaijan. She has previously been targeted by authorities, including in April, when she and her husband were detained when trying to board a flight from Baku to Doha, Qatar. Azerbaijan has a notably poor record on human rights and civil liberties. According to recent figures, there are a 142 political prisoners in the country.
This article was posted on July 30, 2014 at indexoncensorship.org
Latest posts by Milana Knezevic
(see all)